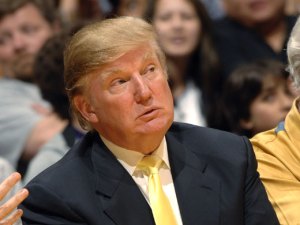 It's all over for "The Apprentice." Depending on whom you ask, Donald Trump either quit for another TV adventure or was canned by NBC over poor ratings. Either way, "The Apprentice" was not on NBC's new prime-time line-up announced last week.  

According to Mr. Trump—a newly minted grandfather, thanks to Donald Jr. and his wife Vanessa—he wants to pursue other showbiz options without the network.  

  

"It looks like viewers will have to wait to see what Mr. Trump plans for the future," a statement from Mr. Trump said. "But if Mr. Trump's past TV success is any indication of the future, then one can anticipate that millions of 'Apprentice' fans will be migrating to his new venture."

What does this mean?  

For Mr. Trump, it means yet another chapter has closed on his remarkable string of rises and falls. 

  

"The Apprentice" brought him, six seasons ago, to the pinnacle of pop culture, placing him amongst the top tier of reality TV shows. Suddenly, Donald Trump, born of Queens, was as recognizable to Americans in Omaha and Myrtle Beach as Simon Cowell of "American Idol"—or, for that matter, the President of the United States.   

More than the fame, however (for Mr. Trump was already famous), "The Apprentice" represented a prime branding opportunity for the Trump name.  

Here came Donald Jr. onto the show. And then daughter Ivanka. And then Mr. Trump on the old Don Imus show talking about "The Apprentice" (and about Donald Trump); and then on MSNBC, "Larry King Live," the cover of People magazine, the cover of Newsweek (with the tagline "You're Fired!"), a cameo on the "Apprentice" knock-off from Martha Stewart, etc. 

  

And, finally and perhaps most importantly, came Trump developments to the show—success on "The Apprentice" was rewarded with a prime spot within the Trump Organization. For instance, Bill Rancic, the 2004 winner, got to pick between working on Trump developments in Los Angeles and Chicago; he chose the 90-story Trump International Hotel & Tower in Chicago.   

"The Apprentice," then, was a fantastically powerful branding opportunity, and Mr. Trump seized it. He seized it at a time when his star in New York was fading, when the financial troubles of the 1990's were supplanted by the reality that little was left for Mr. Trump's immense marketing and financial talents except more luxury developments in an age where "luxury" seems so commonplace and overused.  

Donald Trump commonplace?! Enter a hit TV show. A new persona. A fresh dash of fame in his fourth decade on the New   York and national scenes.

  

It will be interesting, to say the least, to see what he does next.