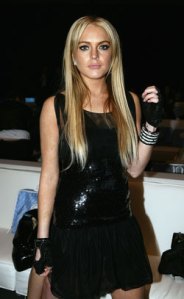 More proof that the phenom known as Lindsay Lohan is speeding toward self-destruction: Earlier this month, Greek shipping-heir-cum-movie-producer Paris Latsis was forced to drop Ms. Lohan, his friend and former paramour, from a film project, according to a source close to Mr. Latsis.
"She was set to play the lead in the film version of Veronika Decides to Die," based on the novel by magic realist Paulo Coelho, said the source. "They were excited to work together. It was a great part." Ms. Lohan would've played the titular protagonist, who decides to commit suicide by overdosing on pills.
Perhaps fortunately, considering the unwholesome subject matter, Mr. Latsis was forced to remove Ms. Lohan from the project because he knew he wouldn't be able to afford the insurance, the source said, elaborating: "Once Paris found out that Lindsay had failed her drug test for the new Keira Knightley project, he said he had to let her go."
Ms. Lohan was originally attached to the Knightley project, a drama called Edge of Love, but dropped out in late April. According to the source, she was asked to take a pay cut to compensate for the high cost of insurance after failing her drug test. "Paris had planned to fly the cast out to Cannes to announce the project," the source said, but the trip was canceled. "Paris is really concerned," said the source. "He really cares about her."
A representative for Mr. Latsis' company, G&M Film, said that Veronika Decides to Die is "still in development," but otherwise refused to comment. Ms. Lohan's publicist, Leslie Sloane Zelnik, also declined to comment on the matter.