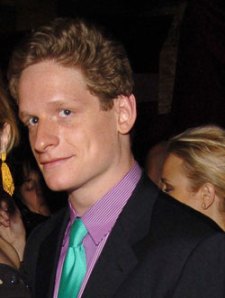 Golden-haired gambling heir Luke Weil, best known for his unflattering appearance in Jamie Johnson's documentary Born Rich, has been missing from the nightlife scene since late last year. "I heard he was in a spa," said the artist Alexandre Charriol, son of luxury watchmaker Philippe Charriol.
It turns out Mr. Weil has been holed up in Tribeca—at the detention center at 125 White Street, according to a spokesman for the New York Corrections Department.
"He's been telling all his friends he's in rehab," said another source in Mr. Weil's social circle. "He's really been in jail."
The Transom has obtained a copy of the criminal complaint filed on Nov. 11 against Mr. Weil by one Patrice Jordan, whom multiple sources have described as a girlfriend of Mr. Weil. The complaint states that on that morning, "at about 04:10 INSIDE 120 WEST 18TH ST.," Mr. Weil struck Ms. Jordan "in the face numerous times with a closed fist causing her to sustain numerous deep bruises and lacerations to her face, neck, and head, and causing red bruising to both of her eyes all of which caused her substantial pain."
Mr. Weil, whose first name is Benjamin—and whose father, A. Lorne Weil, is the C.E.O. of gaming giant Scientific Games—was charged with two counts of third-degree misdemeanor assault. He pleaded guilty to the top charge of assault in the third degree on Jan. 30, 2007. "On that date, he received a sentence of one year in jail," said Barbara Thompson, a spokeswoman for the Manhattan district attorney's office, who noted that Mr. Weil had a previous assault charge on his record: In late 2004, as multiple news outlets reported, Mr. Weil beat British music producer Tarka Cordell with a shattered liquor bottle at sculptress Hope Atherton's 29th birthday party. Mr. Weil pleaded guilty on March 15, 2006, but sentencing was deferred. Ms. Thompson said the current one-year sentence covers both cases.
As for the assault against Ms. Jordan, "It was some time ago," said Mr. Weil's lawyer, Chuck Clayman. "I have no comment."
Close friends and family members of Mr. Weil contacted by The Transom also declined to comment.
"Everybody's heard the rumors, but nobody really knows what's true," said Paul Johnson-Calderon, a young man-about-town who works as an assistant to Vogue contributing editor Lauren Davis. "But from what I hear, it's pretty serious. People know that it involves a fight with a girl. It's really something that the Weils have tried to keep quiet. They've been very hush-hush."
Sources speculated that Mr. Weil's incarceration has stayed under the radar because few know that the heir's given name is Benjamin—and that Ms. Jordan, who was variously described as "a model" and "African-American," is a name "no one has heard." She couldn't be reached for comment. "She's in London right now," said Ms. Jordan's agent, Suzie Sugarman, who said she knew of the assault, but declined to comment on it. "Patrice has a very big heart," she said of her client of 12 years. "She wears her heart on her sleeve."
Mr. Weil, for his part, has had at least one previous entanglement with the scales of justice. After Born Rich was released, he sued Mr. Johnson in New York State Supreme Court, alleging that he was tricked into taking part in the film, in which he is shown saying, among other incendiary remarks, that when someone rubs him the wrong way, "I could be like, 'Fuck you, I'm from New York. My family can buy your family—piss off.' And this is petty, and this is weak, and this is very underhanded, but it's so easy, you know." That lawsuit was dismissed.