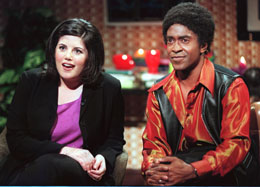 On a recent episode of 30 Rock, an NBC sitcom about the making of a Saturday Night Live–like comedy show, a dilemma arises when the cast's only black actor goes missing.
"Can I play Barack Obama?" asked an opportunistic white cast member.
The answer, of course, was no.
It just so happens that the real Saturday Night Live is faced with that very conundrum every week.
Only one current cast member, Kenan Thompson, is black, which would seem to be a desirable trait in portraying Mr. Obama.
But Mr. Thompson—who starred in a movie called Fat Albert—possesses a body type that makes him better suited to execute impressions of Al Sharpton than the lanky Illinois Senator. The result: an Obama-free show.
A spokesman for Lorne Michaels, the show's longtime producer, said that there was no word yet on who the show would cast as Mr. Obama, or when an Obama character would make its debut.
"We'll know when we know," the spokesman, Marc Liepis, said in an e-mail. "Truthfully, there's no timetable on these things."
In the meantime, former SNL cast member Tim Meadows—of The Ladies Man fame—has some ideas.
"My take on it would be to portray him as a robot," said Mr. Meadows, brainstorming on the phone as he drove around Chicago Saturday evening. "It's almost as if somebody went to a lab and they came out with Barack Obama."
The lab sketch that Mr. Meadows envisioned would look something like this:
Doctors in white lab coats turn knobs and press buttons on a blinking console as they put the finishing touches on what they call the perfect man-made politician. Night falls and quitting time comes. They shut off the lights and leave the room on the eve of their experiment's completion. That's when the black janitor comes in to tidy up.
"Then the janitor in the lab gets caught in the gamma rays or something, and his genes mix with the politician's, like in The Fly," said Mr. Meadows. "It's an experiment that went wrong."
From there, in Mr. Meadows' sketch, the horrified scientists test Mr. Obama's intelligence, ethics and, yes, articulateness.
"He's not exactly what we wanted, but he sure is good," Mr. Meadows imagines the surprised scientists saying.
So there's the idea. The problem is the casting.
Mr. Meadows­—who once portrayed Mr. Obama's real-life conservative black adversary, Alan Keyes—has long since left the show and moved on to other projects. And last year, the show's producers fired Finesse Mitchell, a young, thin, black comedian who Mr. Meadows said would have been a "shoo-in" to play the role.
Yes, SNL has a rich history of actors portraying politicians without bearing any plausible physical resemblance. Dan Aykroyd played Richard Nixon with a mustache. And, comic clumsiness aside, Chevy Chase was no Gerald Ford. Amy Poehler's recent depiction of Hillary Clinton had less to do with her blond hair than the Senator's boundless ambition and fierce, barely hidden temper. And impressions specialist Darrell Hammond, who is white, uses tan makeup to play Jesse Jackson.
Mr. Meadows suggested that a few of the white cast members could potentially try to play Mr. Obama until Mr. Michaels found a more permanent fit. But he also warned that "for a white guy to do Barack Obama, it would have to be approached very cautiously."
That doesn't seem to be a risk that the show's producers are eager to take.