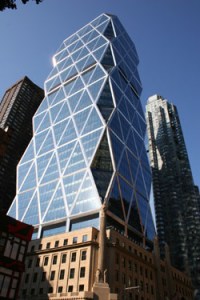 The publishing giant Hearst has its new pretty tower on Eighth Avenue, and it has all those accolades, too—like New Yorker critic Paul Goldberger calling the new building the most beautiful skyscraper built in decades.
Now, with a spring in its step, Hearst is on its way to total domination south of Columbus Circle. The publishing company purchased an 8,000-square-foot building at 304 West 56th Street, directly across the street from its new tower, for $7.6 million, according to city records.
So what exactly is the company planning over there?
"Not going to talk about our plans," said Paul Luthringer, a spokesman for Hearst.
Hmmm. Well, that doesn't help! But who said anything about plans?
They could obviously run the gamut. Now, no one would dare to think that Hearst would expand its headquarters—no, not after all the praise the company has already received for its 700,000-square-foot, diamond-cut masterpiece.
And its newest property on 56th Street is across the street from the trophy that houses O, Cosmopolitan and Esquire—maybe a sky bridge to connect the two, but that's so Flatiron, not Columbus Circle in the age of Time Warner.
It probably just has to do with security. Security in controlling nearby properties; security in the knowledge that the view outside those expansive windows in its new tower won't be blocked by anything unsightly.
That would be the only reason to justify Hearst's nearly $1,000-per-square-foot purchase of a pretty drab five-story building across the street.