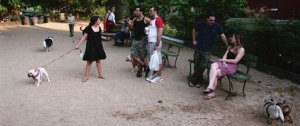 On a recent Friday evening in Washington Square Park, a 45-year-old man named Gary slouched beneath a pregnant oak while his mutt Nana lay on the ground. Sporting a bald pate, boxy spectacles and a weathered cane, Gary sat that sweaty day—as he has nearly every day since he was crippled by muggers several years ago—on a crooked bench in the park's big dog run. The milling crowd felt worlds away.
"There's this hidden community [you see] if you're a really good observer of dog runs, but most people don't look that carefully," said Gary, whose broken frame and gentle murmur belie his harlequin tales. He explained the space—something he called "the closest thing to an old European town square in New York City"—by evoking the urbanist doctrine of Jane Jacobs. He described how Jacobs' 1961 book, The Death and Life of Great American Cities, felled the unconquerable Robert Moses' plans to put a highway beside the current dog run. She won the fight, Gary said, because Jacobs had an insider's view into this kind of "invisible community"—a haven for unlikely friends.
If the Washington Square Park dog run is truly a nirvana in the busiest part of the Village, its fetid air, thunderous dog spats and mine fields of ordure help keep the secret somewhat stashed. After all, the same ground was once a potter's field.
Many of the run's regulars purport to feel a special bond to the 8,000-square-foot, gawkily shaped plot. Alex Prywes, a brawny fellow of 31, lives in the East Village—a neighborhood far closer to Tompkins Square Park and its own, larger run—yet he will often walk his roommate's dog, Meyer, some 10 blocks to Washington Square's leafy southern edge. It draws a legion of dogless warriors, too. Alyssa Minh, a grad student with a Virginia drawl, sat next to her boyfriend, Jeff Gamsey, 25, who had a tiny canine wedged between their laps. After admitting that the terrier wasn't actually theirs, Ms. Minh said she likes how the dogs "just come to you wanting affection." Just behind the happy couple, Amy Lobmeyer peered over the fence. Ms. Lobmeyer, who lives in Pennsylvania, said she makes a point of stopping by the Washington Square Park dog run during her trips into the city. "It's a social setting here; the dogs get to meet their playmates here and meet new friends," she said, pondering the scene. "Where we're from, the dogs just live by themselves, and the dogs don't get along as well as they do here."
The people might, too. "I think dogs humanize a neighborhood," Gary said. "It's not a bunch of towers anymore; people now have relationships with each other, and that's what's not seen."