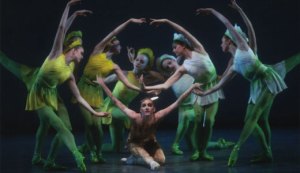 A pale moon is projected onto the upper-left corner of the backdrop—a moon that turns into a huge eye that blinks and seems to weep. A huddle of dancers in brown suddenly spurt a single red rose. These and other startling effects somewhat animate Christopher Wheeldon's new The Nightingale and the Rose at City Ballet. But they don't make up for everything else—the relentlessly clangorous score, by Bright Sheng, which is not very danceable and with which Wheeldon is clearly uncomfortable (he begins his ballet with a protracted solo to bird song, avoiding the music as long as possible); the failure to make dance sense of the story (adapted from Oscar Wilde); the paucity of dance invention. This is a theater piece more than a ballet, and that would be O.K. if it told us something truly theatrical. But all it tells us is how much fun Wheeldon and his muse, Wendy Whelan, must have had conjuring up ingenious ways in which she could impersonate a bird.
The story: A student loves a professor's daughter who will have nothing to do with him unless he comes up with a perfect red rose. When the nightingale sacrifices her life to that selfish demand by throwing herself onto a rose tree, her heart is pierced by its thorns. And then, in a cheaply cynical O. Henry–ish conclusion, the rose is spurned: The romantic nightingale has died in vain. Very little of this minimal plot is clearly enunciated in the choreography, however: The student (Tyler Angle) and the professor's daughter (Sara Mearns) barely appear and have almost nothing to do. It's bird, bird, bird all the way.
Wheeldon has created superb ballets for Whelan, but their luck has run out. To begin with, the nightingale is renowned for its voice, not its look—it's a small, uninteresting bird, nowhere near as glamorous as a Swan or a Firebird. How to make it interesting? By a stream of little birdy movements—peckings and hoppings and wingings—that are more clever than affecting. There's some interesting movement for a convulsing bunch of boys who represent the killer rose—as always, Wheeldon knows how to maneuver groups around—and there's another powerful visual effect as their brown costumes take on scarlet accents that represent the blood from the nightingale's heart. But it's all to no avail. Apart from the visuals, this is thin and unconvincing stuff. My basic test of a new ballet is whether, the moment it's over, I want to see it again—right away! Not this time, right away or ever.
A.B.T., MEANWHILE, HAS CONTINUED TO INFLICT its new Sleeping Beauty on an unsuspecting public. I'm glad, though, that I went back to see more casts, because I finally saw some wonderful dancing. Diana Vishneva gave a glittering performance as Aurora, her phrasing as exquisitely musical as ever, but much as I admired her I find her happier in more obviously dramatic roles like Giselle, Odette-Odile and Manon. She has the technique for Aurora, of course, but her dancing, and her persona, tend to reflect sophistication rather than youthful joy—that's why I don't really respond to her Juliet.
The couple who brought at least their part of the ballet to full life were Gillian Murphy and David Hallberg. Murphy sailed through the exposed technical difficulties without a hint of strain, and although her youthfulness in Act I was a little forced—the continually open mouth is a distraction—by the Vision Scene she was in full, easy command, and in the last-act pas de deux (particularly the solo) she was in relaxed control of her blazing pyrotechnics—both rapturous and regal.
And what can one say about Hallberg? He's so handsome, so sympathetic, so grand in scale—those electrifying jumps, as elegant as they are thrilling—that no matter what he's dancing, he's irresistible. On top of which, he's a magnificent actor. Hallberg is that rarest of rarities, a true danseur noble. Looking back at others of the breed whom I've seen—Youskevitch, Bruhn, Martins and the odd Russian—I can't think of an American among them. Let's give thanks to South Dakota.