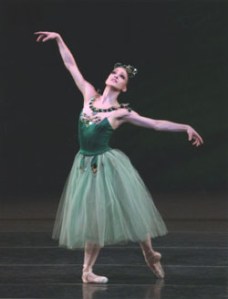 This has been the best City Ballet season in more years than I care to reckon. To begin with, the repertory has been relatively free of second- (and third-) rate stuff. (Forget Peter Martins' new Romeo + Juliet—I have.)
The season has been heavily slanted toward Balanchine (it took an homage to Lincoln Kirstein on his centenary to bring that about). But as we've seen over the past 15 years, scheduling great ballets by Balanchine isn't enough. They have to be danced with energy and conviction, which becomes a problem when dancers way over the hill, plus dancers who never even got to the top of the hill, are left in roles for which they're seriously under-equipped. It's painful to have to name the once-radiant Darci Kistler among them, but although she can more or less make it through the sublime Liebeslieder Waltzer, it's unfair to Balanchine (and the audience) to let her blemish Serenade. Still, we owe her respect and affection for what she meant to us before injuries brought her down.
We owe nothing beyond bare politeness to Yvonne Borree, consistently and stubbornly occupying roles for which she's deeply inadequate (Apollo, Concerto Barocco, "Rubies"), or to Nilas Martins, for whom the word "inadequate" is inadequate. It's a disgrace that he's performing the title roles of masterpieces like Apollo and Orpheus. As for the stately Albert Evans' sketchy un-eroticized, un-charged impersonation of the lusty, macho bridegroom in Bugaku, I extend my commiserations to Maria Kowroski, who was trying very hard (and looking very sexy) in a role not particularly suited to her. Together they looked like Cyd Charisse and Sammy Davis Jr. on Valium.
But such reservations are hardly new. The crucial thing is that for the first time since Balanchine's death, in 1983, there's a sense of things coming together rather than falling apart or holding on for dear life.
As always with Balanchine, we start with the ballerinas. Since Peter Martins took over, various first-rank dancers have retired, petered out, imploded or slipped through the company's fingers. Of the company's current group of principal women, Sofiane Sylve has never integrated herself into the repertory; the talented Janie Taylor has been sidelined for physical reasons; the brilliant Jennie Somogyi was out for a year and a half with a serious injury; and though Jenifer Ringer is an ornament to the stage, she is decidedly limited. Only Kyra Nichols could be relied on, decade in and decade out.
But just as she was preparing to retire, help was on the way. Somogyi is back, and as ravishing as ever. It's too soon to know if she'll be back in her big tough roles—Tschaikovsky Piano Concerto No. 2, the first movement of Symphony in C. But her passionate musicality, her beautifully supple back, her total commitment are dazzling again in Davidsbündlertänze, Liebeslieder, Piano Pieces. Of all the current dancers, she's the one who's learned most from Nichols—she even resembles her somewhat. Welcome home!
And a wunderkind has arrived, a miraculous gift to the repertory. From her earliest performances, it was clear that Ashley Bouder was a compact powerhouse with total technical command. The question was: Could she refine her attack and her phrasing? Well, she's done it. When Balanchine wanted to help soften Merrill Ashley, another technical powerhouse, he gave her the exquisite Violette Verdy role in "Emeralds." Martins has done the same thing for Bouder, and she easily conveyed its wit and elegance. And then she triumphed in "Rubies"! No other dancer has mastered these two vastly different sections of Jewels. Given her effortless command of the ultra-classical Tschaikovsky Piano Concerto No. 2, it won't be long before she completes her parure with "Diamonds."
In "Rubies" she was scintillating—particularly gratifying after Borree's limp attempt and the grim, dull Megan Fairchild. Bouder understands the role—that its essential quality is glee shared with her guy. They compete, they flaunt, they relish each other's bravura—they're in each other's face, and in the audience's, too. In other words, they're Edward Villella and Patricia McBride, the great originals. Bouder rubied with Benjamin Millepied, a pleasing, elegant dancer as far from Villella's rip-roaring charisma as you can get. (Borree snagged the whiz-bang Damian Woetzel, presumably on the theory that if at least one of the couple has what it takes, the ballet can get by. This is a very poor theory: There's no "Rubies" unless both dancers have what it takes, and then some.)
Bouder is devouring the repertory, soft and plangent in Serenade, crisp and charming in Raymonda Variations. She still needs some shading—until now I never really thought a dancer could be too clear and articulated. But who's complaining? She's the future.