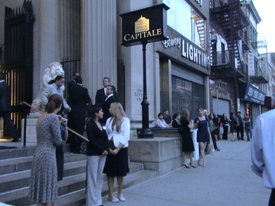 Here's a shot of a few people waiting outside Hillary Clinton's fund-raiser at Capitale last night. Hillary was voting on an immigration bill in D.C. and didn't attend, but a few other big names did:
Rapper Darryl McDaniels, also known as DMC. Dressed in a Harley Davidson t-shirt and black jeans, he told me, "I came to experience something I can talk to my grandkids about."
Paychex billionaire Tom Golisano, the erstwhile Independence Party gubernatorial candidate who recently became a Republican, was also there.
And, unmissably, Harvey Weinstein.