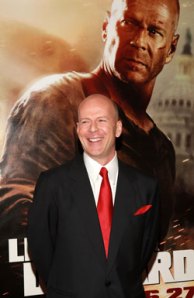 In other hoary-heartthrob news: On Friday, June 22, the fourth installment of the Die Hard franchise—Live Free or Die Hard—premiered at Radio City Music Hall. A crush of screaming, joggling fans awaited the movie's leading man, Bruce Willis, who arrived with his head freshly shaven.
"I think we have more freedoms here and more fun here than anywhere else on earth," said Mr. Willis, 52, meaning in America. "Don't you?" Errr ….
"He's a better action hero than most of his younger counterparts," cooed co-star Mary Elizabeth Winstead, 22. (Relax, feminists! She plays Mr. Willis' daughter.)
Another co-star, Justin Long, 29—previously best known as the young, "cool" guy who schools the drab P.C. stiff played by writer John Hodgman in the Apple computer commercials—appeared unfazed by his sudden proximity to Hollywood's A list. "Bruce, Sly, Arnie—we're like so tight," joked Mr. Long, currently filming The Tale of Despereaux with Dustin Hoffman and Sigourney Weaver. "We played pinochle, we partied with, like, Tara Reid and Paris before she went to prison." Suspiciously pneumatic actress Kate Beckinsale walked past. "Eww, gross! Kate Beckinsale just pinched my ass! Disgusting!"
What is living free? "Just following your heart," Mr. Long said. "Your bliss. And don't live in North Korea."
Clerks director Kevin Smith, who also has a small part in the movie, said he had bonded well with Mr. Willis, a fellow New Jersey native. "He's not a smoker, so I would be outside smoking and he would talk to me like this," Mr. Smith said, leaning back like he was approaching a limbo bar. "He's the only person I've ever met in the entertainment business outside of Jason Mewes"—an actor in Clerks—"who knew what pork roll was and talked about it at great lengths."
What does it mean to live free?
"I have no idea," Mr. Smith said, shaking his head. "But I saw it on a license plate once."