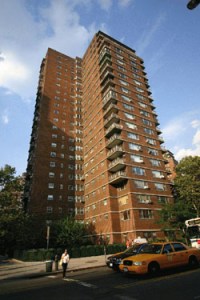 If the local masses ever revolt, oil heirs and celebrity photographers and their ilk will be cast out of well-upholstered co-ops and replaced by maids and cooks and footmen.
Until Manhattan goes Marxist, romantics will have to settle for stories like this: Jamie Kimm, Annie Leibovitz's chef until last summer, has bought a modest but high-floor co-op at London Terrace, the imperial West Chelsea apartment block where Mr. Kimm used to cook for Ms. Leibovitz in her two-unit penthouse.
Two years ago, Ms. Leibovitz sold her sprawl to the art dealer Paula Cooper, reportedly for around $5 million. Mr. Kimm and his wife Alison Attenborough, a food stylist, paid $961,500 for their own spread in the building. Prudential Douglas Elliman broker Bruce Wayne Solomon represented the buyers in both deals.
"The thing was, we actually used to live in there as a rental," Ms. Attenborough said about the building. "Then we bought an apartment around the corner that's more of a live/work space. And, literally, all I did was long to get back to London Terrace.
"When Jamie would work for Annie, I became friends with the doorman, who's really lovely. And he remembered me from when I used to rent," she added. "The apartment came on the market in very bad shape, and I got to see it before it was ever listed."
Their one-bedroom's seller is Mollie Michala Lyman—a "sweet and elegant" old lady that Ms. Attenborough had befriended in the downstairs pool.
Still, how do a nice couple of chefs afford to buy a near-million-dollar apartment in a boss' old building? "I can tell you I do not have a rich family or parents or anything like that," Ms. Attenborough said. "It's sheer hard work."