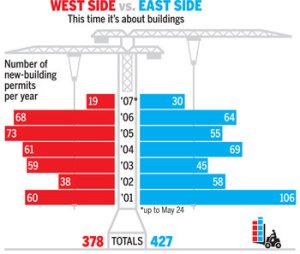 More than half of the new Manhattan buildings approved for construction this decade have been on the East Side.
A survey of the 805 new-building permits O.K.'d by the city's Department of Buildings since the start of 2001 through the third week of May show that 53 percent were for commercial, residential and manufacturing buildings on the East Side.
In four of the last six and a half years, the East Side has led the West in the number of new-building permits approved, including 2007 so far. The city has approved 30 permits in 2007 for the East Side, and 19 across town. The topmost stretch of Manhattan—Inwood, Washington Heights and northern Harlem—was included in the survey as part of the West Side, making the East Side's decade-long lead all the more striking.
The West Side edged the East Side in 2003, 2005 and 2006—but only by slender amounts each year; in 2006, the West Side had 68 permits, the East Side 64.
A lot of the East Side building, too, has been north of 96th Street. In 2001 alone, the city approved 67 permits for buildings north of East 96th Street—more than 40 percent of all permits approved that year in Manhattan. In 2007, 11 above East 96th were approved—about one-fifth of the year's permits so far. For 2002 through 2006, roughly 15 percent of the new-building permits approved were for above East 96th Street.
Construction's busy, then, in that tender pocket of gentrifying East Harlem.
Yet, according to a study earlier this year by Borough President Scott Stringer's office, that same splice of Manhattan has dozens of vacant sites or vacant buildings. More than 70 percent of all the vacant sites and buildings in Manhattan are above 96th Street, and the majority of those are in central and East Harlem.
So, even with the robust building this decade, space remains in Manhattan, great swaths of potential, to add either residential or commercial footage—or both in the same building—to markets that now seem insatiable for it.
The vacancy rate for Manhattan office space now rests beneath 6 percent, according to the brokerage Cushman & Wakefield, the lowest since 2001; in midtown and midtown south, the vacancy rate's even lower. At the same time, new office space arrives in trickles, oftentimes as empty existing space for lease, and almost never as newly created space. (Only two office towers are slated to debut in the next several months—The New York Times' new headquarters at 620 Eighth Avenue, and One Bryant Park.)