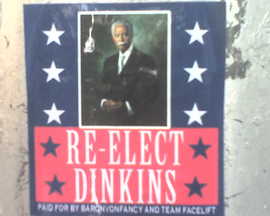 Eliot Spitzer's plan to "govern through state agencies" alarms The Brennan Center.
Ben wants to know what do the leading Democrats think about Rupert Murdoch's company is deferring its tax payments.
Get ready for more "issue ads" right before the elections.
Fred Thompson is beating Rudy Giuliani in the category endorsements from ex-wives.
Hillary Clinton leads Barack Obama by 39 to 17 percent in this poll of Nevada voters.
Dan Calabrese thinks Michael Bloomberg has "has enough prominence to inspire a comical sideshow while preventing a serious debate."
But that may work with voters in Michigan.
A CNN contributor wonders what Bloomberg's constituency is.
Chris Cillizza looks at Bloomberg's inner circle, and finds a lot of Democrats.
Steve Kornacki thinks the Bloomberg skeptics on Meet the Press were off the mark about the credibility of his candidacy.
He also bridles at the notion that Bill Clinton's victory in 1992 somehow proved that Iowa doesn't matter.
This morning, Jeanine Pirro was spotted on NBC's Today Show.
There's a three-way race to be Republican Chairman in Bergen County, NJ.
And pictured above is a another New York City mayor who one sticker-maker wants to draft back into public service.