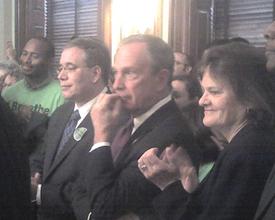 Bill Clinton might raise more than $3 million for Hillary Clinton's campaign.
Hillary Clinton's pollster Mark Penn, who has come under fire from some labor groups, held a party last winter attended by labor leader Andy Stern.
Chuck Schumer wants to take a vote of no confidence on Alberto Gonzales.
Rudy Giuliani's fight with John Edwards over terrorism today is like Giuliani's fight with liberals over crime in the 1990s, according to Greg Sargent.
Nicole Gelinas thinks Eliot Spitzer and Sheldon Silver may both be obstacles to congestion pricing.
Mike Bloomberg's new education initiative could put money in kids' pockets.
Malcolm Smith told a local paper, "I'm not driven by this office to make this a career for the rest of my life – I am driven by Christian beliefs."
Mole 33 explains everything about a judicial race in Brooklyn.
Two must-attend events are taking place this weekend: The Met Council breakfast and the Puerto Rican Day Parade.
Paris Hilton is going back to jail.
And pictured above is Mike Bloomberg at a press conference today with two new friends: Scott Stringer and Betsy Gotbaum.