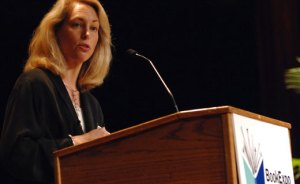 Shortly after noon, on Saturday, June 2, Valerie Plame stood at the front of the stage in a cavernous auditorium at the Jacob K. Javits Convention Center and read her "To do" list from the past ten days: Pick up the dry cleaning … Buy her kids stuff from Target for summer camp … Sue the C.I.A.
"All done," said Ms. Plame.
She was interrupted by applause.
It was lunchtime at the annual BookExpo America, and a large crowd of booksellers, publishers, and publicists had paid $50 each to eat chicken-ala-something and listen to a panel of authors talk about their new books.
Alan Alda had kicked things off. Paul Krugman was on deck. Russell Simmons was closing. Now the podium belonged to Ms. Plame.
She was wearing a blue blazer over a white top. She explained that she and her husband Joseph Wilson had recently relocated from Washington D.C. to Santa Fe, New Mexico. Ever since the move, she had been spending a lot of time unpacking books. "We had 12,000 pounds of household goods," said Ms. Plame. "And six thousand of them were books."
Ms. Plame recently finished writing a book of her own, entitled Fair Game, which Simon & Schuster plans to publish in October of 2007
(and for which they reportedly paid $2 million).
"It's a memoir of my career with the CIA," said Ms. Plame. "I was proud to serve my country. I was loyal. I loved my career. It was exciting. And I got to do something I thought was meaningful."
All of which famously came to an end in the summer of 2003 when her name and professional occupation—which turned out to be classified information–was leaked to the media. Just exactly how that leak took place has since become fodder for investigations criminal and otherwise, as well as tens of thousands of news stories, endless talk show punditry, and the eventual felony conviction of vice-presidential advisor I. Lewis Libby.
Ms. Plame told the audience that she had enjoyed the process of writing Fair Game.
"For the first time I got to go through the events that have happened to me and my husband at 120 miles per hour, and actually think about them and absorb it," said Ms. Plame. "I found that whole part of the process a catharsis in many ways."
To date, however, the process of publishing the book has been fraught with difficulties.
To wit: This past Thursday, Ms. Plame filed a lawsuit in federal court against the C.I.A, which is blocking the publication of her memoir, on the grounds that some of the information contained therein is classified.
Like all C.I.A. employees, Ms. Plame had previously signed an agreement requiring her to submit any future writing about her career to the agency for review before publication. According to Ms. Plame, she and Simon & Schuster had been working unsuccessfully for months with the C.I.A. in the hopes of reaching an agreement. When that failed, according to Ms. Plame, she had decided to sue the C.I.A. for violating her right to free speech.
"I am not seeking carte blanche to reveal all the details of my government service," Ms. Plame told the audience at the BEA. "Not at all. I understand my obligation and responsibilities about preserving and protecting classified information. Absolutely. But I am entitled to write about my story."
She alleged to the audience that the C.I.A.'s actions were politically motivated. "I can tell you, this has nothing to do with national security and everything to do with political interference," she said.
"This is why this suit matters so much to me and everyone in this room," added Ms. Plame. "Because just as you have to be vigilant to protect our national security–something I believe in passionately–we have to be vigilant to protect our freedom of speech and first amendment rights."
There was more applause. Followed by cheesecake for dessert.
Before returning to her seat, Ms. Plame acknowledged that the bulk of her writings throughout her career had been "very very dry." Composing Fair Game, she said, had been different.
"I enjoyed writing it," said Ms. Plame. "I hope you enjoy reading it."