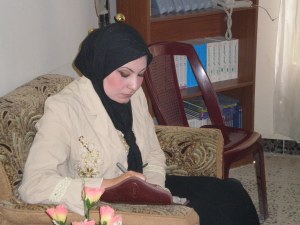 TUZ, IRAQ—Fariel Rasheed Ali spends long days in her meager office, shuffling between meetings with engineers and City Council members who are all trying to rebuild this war-torn city, just 30 miles east of Tikrit, Saddam Hussein's birthplace.
Her struggles are not unusual. What makes Fariel rare within the ranks of Iraq's beleaguered reconstruction hierarchy is simply the fact that she's a she.
"I get threats all the time, including threats against my family," said Ms. Ali, a thoughtful, soft-spoken 26-year-old Kurd who runs the Tuz Economic Development Center. "They tell me that I need to stay quiet—that this job is not for a woman."
Most women in today's Iraq barely leave their homes, let alone work in a male-dominated field.
"To be a female in Iraq is like being in prison. There are no rights, no freedom. The woman is only allowed to serve her husband and raise her children," she said. "Unfortunately there is nothing to protect us. Our husbands and other family members beat us if we speak out. There is nowhere to go to complain. We have no right to an education because the men want the women to be weak. She has no money because she can't work—so she is always dependent on her husband and her family."
Ms. Ali was working behind the scenes at the center – which opened on April 2 in Tuz, a medium-sized city with an ethnically mixed population of Turkmen, Arabs and Kurds – when the U.S. military came to the conclusion that she knew more about the business than the men who were running it. They promptly asked her to take over.
At first Ms. Ali refused, she said, because of the danger. She eventually agreed to take the job with the encouragement of her brother, who now also works there. But her initial misgivings weren't entirely misguided: shortly after she accepted the position, she was severely beaten by a cousin who was enraged at her impertinence. It took her days to recover.
And the hard part has just begun. She has since received a number of death threats that compel her to take a different route to work each day. And the workplace has not provided any respite from the adversity: Ms. Ali says that her male co-workers are determined each day to undermine her.
She seems just as determined not to let them.
"Everybody is jealous of me," she said. "They try to fight me because they don't want me to have this position. It's really hard. I'm knowledgeable and I know I can handle whatever they give me, but there is a lot of jealousy. They try to piss me off while I'm working—they try to sabotage me."
Ms. Ali is currently setting up a small business center to give out loans to shop owners and is in the middle of moving into a larger office next door. She manages a staff of three men. She is currently trying to find the money to hire six more people, including three women.
"I had to work very hard to get this job and now I have to work even harder to try to change people's perception," she said. "I am doing my best but I still want to do more so that I can fit into the Western society's standards."
"I've seen a lot of women suffering," she said. "I want to open the door for them."
Ms. Ali is a study in the contrasts made necessary by the precarious position of working women in today's Iraq. She has a master's degree in computer programming from Kirkuk University, and has generally liberal views on politics and religion. But she wears a traditional head scarf—a requirement, according to her.
Her father is dead, but her mother wholeheartedly supports what she's doing.
"My mother couldn't get an education but she has a lot of ambition," Ms Ali said. "She encourages me and tell me to do it for her too. She is very proud of me. She worries about me though, about my safety."
She dreams one day of becoming a politician. She said she looks to Western women for inspiration.
"They are 100 percent free," she said. "I hope we can reach that level one day."
Fighting back tears, Ms. Ali said she hopes the rest of the world will help her open doors for the women of Iraq.
"I want people to hear my story," she said. "I want to open my heart and let people know what we are going through. I want American women to know what we are going through."