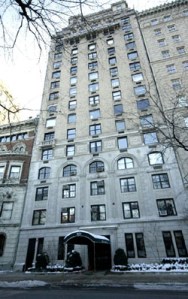 A wee one-bedroom co-op in the massively regal 825 Fifth Avenue has passed from one economics titan to another: Iconic Harvard professor Martin Feldstein, once President Reagan's chief economics adviser, paid $1.925 million this month to Merrill Lynch vice chairman William McDonough, an ex-president of the Federal Reserve Bank of New York.
But does Mr. Feldstein, the author of over 300 research articles, know that he was taken to the cleaners? According to city records, Mr. McDonough and his wife bought the sixth-floor apartment in an estate sale only two years ago for $985,000.
They doubled their money in no time. Still, Mr. Feldstein and his economist wife can take comfort in the fact that co-ops on their well-groomed new block have been getting pricier by the month.
Plus, according to Sotheby's International Realty broker Mon Ling Landegger, the unit has been suavely renovated, and it's one of the building's few apartments with a Juliet balcony. And the balconied living room has a fireplace, plus a set of French doors.
City deeds show that Mr. and Mrs. McDonough own another apartment four floors higher in the building. (That place was designed with the help of name-brand decorator David Easton, Ms. Landegger said, though downstairs "they haven't really totally decorated.")
The broker, who represented buyer and seller, said her clients are friends. Indeed, these finance folk are both affiliated with the Group of Thirty, a cool-kids club for international leaders who like to get together twice a year to "deepen understanding of international economic and financial issues." Fun times!