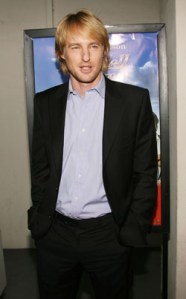 Apparently, New York fillies are far from immune to the charms of the Butterscotch Stallion.
In the early morning hours of Sunday, June 10, in the smoky backroom of the club Beatrice Inn in the West Village, the actor Owen Wilson was perched atop a banquet with a wingman, real-estate heir and Elizabeth Hurley baby daddy Steven Bing, according to an onlooker. "They were sitting up on top of the booth—so it was sort of like a regal position," said the eyewitness." And women were literally lining up one after another … making their little pitch to Owen."
Both Mr. Bing and Mr. Wilson were dressed casually, the latter with a baseball cap pulled low over his face, and seemed to be enjoying their boys' night out.
But the You, Me and Dupree star, who reportedly split from his former costar turned paramour Kate Hudson last week, was not living up to his former wild-man reputation. "It was almost sort of like he wasn't in the business of picking up girls," said the spy. "He would sort of comfort them. I saw him put an arm out and tap the shoulder of a couple of them as if to say, 'You're O.K., honey.'"