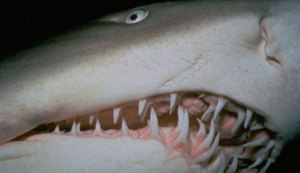 Sand shark? I'd never heard of it, either. But once you see those words scrawled on the daily-catch board, it's hard to look away. How often do you get to confront your deepest fears and buy dinner at the same time?
My fillet still had some skin attached, and when I felt the sharp, sandpapery edge, I got a chill. A dining companion, upon touching the skin, jumped back and said, "I think it's going to taste like human." (No, I told her—that's the Land Shark.)
The sand shark's flesh is white, but streaked through with red—the blood of countless innocent victims, probably. This meal was for all of them.
The meat is surprisingly thin and cooks up quickly on the grill. Its flavor is slightly fishier than that of more expensive white fish like cod and halibut. It's also more dense, but somehow light at the same time. Any dressing will do, as long as it has some lemon in it.
A 1948 Fish and Wildlife Service guide states that the sand shark—which can grow eight to 10 feet long—eats mainly small fish and is a "harmless nuisance." That's nice. I'll just stay in the boat.
Sand shark, $4.95 a pound at Pura Vida fish stand, Union Square Greenmarket, Fridays, 8 a.m. to 6 p.m.