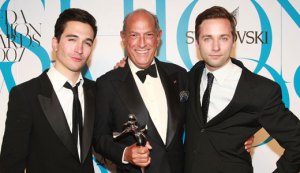 "When the dress arrived, I said, 'I'm going to have to name her,'" Oprah Winfrey told the crowd at the Council of Fashion Designers of America's annual awards at the New York Public Library on Monday, June 4, speaking of the ankle-length pink wrap ball gown that designer Ralph Lauren had created specifically for Ms. Winfrey to present him with the American Fashion Legend Award.
Mr. Lauren also won Menswear Designer of the Year. "If I had a dream night, this was it, right?" he told the Transom later. "Very wonderful—I'm very happy. A legend!"
Attractive young women had lined the entrance into the Astor Hall, wearing black frocks from Vera Wang's mid-priced Lavender label, which the designer said had "a certain kitsch-esque charm." Ms. Wang pronounced herself fed up with last summer's peasant-skirt trend, apparently still consuming the international set. "I saw it in Paris, London, Shanghai. I'm so over it!" she said.
Passing Ms. Wang's table, irrepressible designer Betsey Johnson yelled out her favorite trend of the season: "String bikinis and lots of sun!"
The actress Uma Thurman commenced the show, which was hosted by Ellen Barkin, by presenting the Eleanor Lambert Award for "a unique contribution to the world of fashion" to longtime friend, photographer Patrick Demarchelier.
Phillip Lim won the Swarovski Award for Emerging Talent, Womenswear, and jewelry designer Robert Lee Morris was presented with the Geoffrey Beene Lifetime Achievement Award. A very pregnant Jessie Randall for Loeffler Randall won the award for Emerging Talent, Accessory Design. "I think I'm very hormonal," she said, tearily accepting it.
In an All About Eve moment, Michael Kors protégé Derek Lam beat out his mentor for Accessory Designer of the Year. "God, I'm so unprepared—and drunk!" Mr. Lam said at the podium.
Fresh from rehab, Marc Jacobs presented Pierre Cardin with the International Award, remarking that the older man "made fashion democratic, and he made it global." Mr. Cardin, 84, proceeded slowly to the podium, where he gave his thank-yous in French. A low murmur then followed as many in the room volunteered their translations.
The Washington Post's Robin Givhan was presented with the Eugenia Sheppard Award for Fashion Journalism.
The Womenswear award was saved for last.
"And the winner is … let's hope I'm not too old to read the names … Oscar de la Renta!" Ms. Barkin announced. The crowd rose to its feet, but she interrupted their applause. "It also says Lazaro Hernandez and Jack McCollough for Proenza Schouler. It's a tie! If I were 25 years younger"—she is 53—"I would have known that right off the bat!"
"You go first!" Messrs. Hernandez and McCollough urged the elder sartorial statesman.
"I am so proud to be an American; I'm so proud to be part of this industry; I'm so deeply proud that you're all my friends," a moist-eyed Mr. de la Renta said.
Then a cell phone rang.
"Oh my God, it's my mom!" Mr. Hernandez said. He didn't take the call—thank gawd. "We stand in awe," he said. "Behind Oscar and in a room with Oprah Winfrey, and being nominated with Marc Jacobs."
"Yay!" came a yelp from the back of the room.
As the crowd dispersed after midnight, Zac Posen was waving goodbye to Harvey Weinstein and his girlfriend, Marchesa designer Georgina Chapman. "It was very long," Mr. Posen said of the show. "A lot of money was spent."