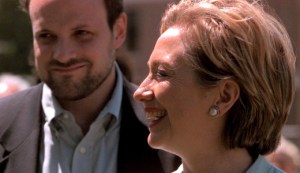 Lest any of the Democratic candidates forget, tangling with Hillary Clinton comes at a painful price.
That, in short, was the message her campaign sent this week to Mrs. Clinton's rivals after her rapid-response press operation rapidly humiliated Barack Obama, her closest competitor for the Democratic nomination, by turning his own campaign's attacks against him.
By obtaining and then leaking to The New York Times a not-for-attribution opposition-research memo that the Obama campaign had distributed to reporters, Mrs. Clinton's press office forced several public apologies from Mr. Obama and his campaign, all without Mrs. Clinton so much as publicly mentioning the memo or breaking stride as she fund-raised in Texas, Oklahoma and New York.
"They were reminders, rather than lessons," said Jim Jordan, an advisor to Chris Dodd who ran the early stages of John Kerry's Presidential campaign. "First, the Clinton campaign has an absolutely first-rate and very aggressive press operation."
The operational portion of Mrs. Clinton's press office, staffed with the likes of Howard Wolfson, Phil Singer and Blake Zeff—all alumni of Senator Chuck Schumer's famously aggressive publicity machine—is tasked with defending Mrs. Clinton's record while she travels around the country raising money, explicating her new position on Iraq and posing for pictures. It is an operation built to take advantage of just such occasions.
"I think her campaign is the best organized, most disciplined and effective Democratic campaign I have ever seen," said Charlie Cook, an independent political analyst and editor of The Cook Political Report. "If you are running against her, your assumption ought to be that they aren't going to miss anything. And anything they don't whack you back on is because they decided for some strategic or tactical reason not to."
On June 14, they got a softball, and they definitely whacked.
The pitch came in the form of two opposition-research memos consisting of selections of previously published reporting and Mrs. Clinton's public statements. The Obama campaign had compiled the paragraphs and sent them to reporters to raise questions and prompt negative news about the Clintons' personal financial-disclosure statements. Looking specifically at Mrs. Clinton's position on outsourcing, one memo highlighted Mrs. Clinton's investment in an Indian billing company under the heading "Hillary Clinton (D-Punjab)'s Personal, Financial and Political Ties to India."
A source in Mr. Obama's campaign argued that the Punjab reference alluded to a joke Mrs. Clinton has told—that she could win a Senate seat in the northern Indian state because of her strong ties to the Indian community. But that humor was certainly lost when The Times published portions of the memo on Friday.
By the time the re-packaged story made its way around liberal blog world, it had morphed from a negative analysis about Mrs. Clinton's finances to a narrative about Mr. Obama's failure to live up to the greater virtues he had set for himself and his campaign. The Obama campaign scrambled, issuing apologies, making overtures to their publicly enraged South Asian supporters and watching with frustration as Mrs. Clinton's campaign, no stranger to the dark arts of opposition research, assumed the role of aggrieved party.
Former rivals of Mrs. Clinton, reduced to road kill under the wheels of her fund-raising and press machine, watched the whole situation with a sense of bemusement.
"The Clinton campaign is well-practiced at playing victim—if there is anyone out there who is known for their oppo-research, it is Clinton," said Rob Ryan, the former spokesman for the Republican former mayor of Yonkers, John Spencer. Last year, Mr. Spencer unsuccessfully challenged Mrs. Clinton in the Senate race, during which time Mrs. Clinton's chief spokesman and senior strategist, Mr. Wolfson, repeatedly (and successfully) characterized him as a madman.