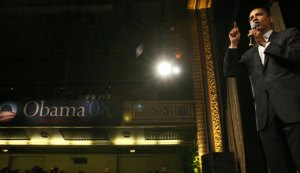 Barack Obama's speech at the Hammerstein Ballroom on June 22 was inspiring enough, apparently, for his supporters to entertain thoughts of him pulling a Mike Bloomberg.
"It's about him," said Michael Giudic from Manhattan, when asked about the idea of Mr. Obama running as an independent if he loses the Democratic Presidential primary. "It doesn't matter the party he's in. It's about his ideas, his beliefs."
"I would vote for him for what he represents as a human being," said Christian Swan, a well-groomed young supporter in a suit. "It's the spirit of it all. He could run as an independent and I'd vote for him. He could run as a Republican as well."
Mr. Obama's speech at what was billed as a "Generation Obama" that night had clearly catered to the liberal, mostly young crowd of New Yorkers, to whom he was introduced by singer Ben Harper as the future "greatest leader in the history of America."
Here's how the Senator began:
"Back in the Big Apple. Back in New York City. I love New York City!"
He went on to talk about his first night in New York, during which he "slept in an alley" days before starting classes as a transfer student at Columbia University.
"I was between Amsterdam and Columbus on 109th Street—I think it's gentrified now, but it wasn't back then," he said. "And the person I was going to sublet from had said they were going to be there and they weren't there and I had my luggage and folks were looking at me from the stoop. And eventually it got so late that I slept on my bags. And in the morning, there was a fire hydrant that was open and a homeless brother was washing his hands, and I washed my hands next to him, washed my face." Pause. "And that was my first night in New York."
Asked after the speech about the Mayor's change in registration from Republican to independent—and the possibility of a Bloomberg Presidential candidacy—Mr. Obama smiled and said, "Bloomberg's a good guy."
As he turned to shake some more hands, he was asked about his own thoughts on running as an independent if it came to that—during his speech, he repeated his frequent call for a "non-ideological" approach to politics—and he turned back to answer.
"Yeah, well, I'm a Democrat," he said.
He paused and then added, "I like Bloomberg."
Then his Secret Service detail escorted him from the building.