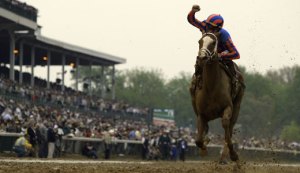 The one hundred and thirty ninth Belmont Stakes, to be run on Saturday at Belmont Park on Long Island, would have been special if Derby winner Street Sense was in it.

Instead, we're going to have to wait until later this year to see him run—hopefully in the Breeders Cup Classic. Let's keep our fingers crossed.

The Belmont race course is one and a half miles long. The horses travel around it once. It's known as "The Test of Champions."

In the last 73 runnings, the winner has been third or better turning for home.

Let's take a look at what might be the field.

#3

Curlin – Had a super performance in the Preakness that will be hard to duplicate, but should be able to win this. Came out of the Preakness tired. He's rested and training good. The one to beat.

#6

Hard Spun – Comes to run. Third in the Preakness. Second in the Derby. CURLIN will have to run him down in the stretch. Garett Gomez will ride in the race instead of the usual jockey, Mario Pino. If the track comes up muddy or sloppy he could be tough to beat.

#7

Rags To Riches – This filly likes to win. Has won four out of five starts, as is likely to finish in the money here. Bred to run the distance. She's a half-sister to Jazil, who won the Belmont last year.

#2 Tiago – Seventh in the Derby. Skipped the Preakness. He's bred to run all day. Will be closing.

#1

Imawildandcrazyguy – Finished fourth in the Derby. Will be far back early.

#5

Slew Tizzy – Won the Lone Star Derby in last start.

#4

C P West – Finished fourth in Preakness.

I'm taking the Superfecta for a dollar:

the play for this one is 3-6-7 with 3-6-7 with 3-6-7 with 1-2-4-5. I'm also playing an exacta box of 3-6-7 for two dollars and a triple box of 3-6-7 for two dollars. The total is $48.00.

If you played my selections in the first two Triple Crown races, you would have made a $757.50 profit.
  

Safe to trips to all the horses and riders.


  
 

Hope to see you at Belmont Park Saturday.
Jerome Keel, who works part-time at the track, has been writing tip-sheets for in-house consumption for several years. Last year, he correctly predicted the exacta in the Kentucky Derby and the triple in the Belmont Stakes.