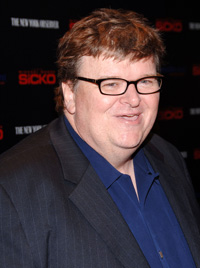 At the New York premiere of his health-care documentary Sicko on Monday, June 18—sponsored in part by this salmon-colored scandal sheet!—filmmaker Michael Moore spoke for only five minutes about how Americans should question the notion that they live in a free society. "I'm going to go get some popcorn and water," he said, telling the crowd he was off soda. "'Cause I'm trying to take care of myself now."
The next day, The Transom attended a luncheon in honor of the film at Brasserie Ruhlmann on West 50th Street, where the sight of a waiter carrying a plate of chicken and French fries appeared to rouse something deep within Mr. Moore. "Have they served the main course yet?" he asked.
It seems the creation of Sicko put Mr. Moore in a dieting frame of mind, though he was still carrying considerable padding. "While I was making the film, I saw a lot of people caught up in the health-care system who maybe could have avoided it had they just taken a little bit better care of themselves," he said. "And so what I've been telling people that until we get national health insurance for everyone, in the meantime take care of yourselves. And one way to fight the system yourself personally is to get out and go for a walk every day and eat some fruits and vegetables."
Then the perspiring Mr. Moore asked a publicist, "Can you gimme some water and"—he disrobed—"yeah, maybe a place to put my coat and hat."
"You want some iced tea?" the publicist suggested.
"Iced tea would be fine, sure."
The Transom noted that one of Bill "Bubba" Clinton's pet causes is fighting the obesity crisis. "I think what he says is true," Mr. Moore said. "Because it really should be seen as a national-security issue. If you really truly had to defend yourself, it's a lot harder when you're overweight. It's just something to think about."