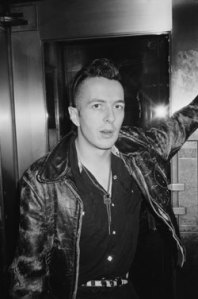 When London called, Joe Strummer made it his job to listen. As the lead singer of the Clash, Strummer, who died in 2002 at the age of 50, turned the city's breathless cries into a siren song of the apocalypse. Spilling over with nuclear fury and dank despair, Strummer's voice was hard to ignore and, perhaps as a result, so was his message. But unlike the phlegm-filled rants of his lanky punk cousins the Sex Pistols, Strummer's anthology of work is timeless. Songs like "Tommy Gun" and "Know Your Rights" continue to pump with the same sweaty, spine-arching vigor they had some 30 years ago.
Born in Ankara, Turkey, to a Scottish mother and an Anglo-Indian father, Strummer understood the beauty of difference at an early age. So when he fell in love with British and American musicians like Eric Clapton, Little Richard and Woody Guthrie as an adolescent—soon after he was sent to live at a London boarding school—his lifelong passion for punk was weaved through with foreign thread. He came of age in the throes of Swinging London, and the rest, as they say, is history.
Julien Temple's 2007 bio doc, Joe Strummer: The Future Is Unwritten—which will screen on Friday, June 8, at B.A.M. Cinématek—is a rocket-fueled journey into the mind of this beloved, much-missed musician. By mixing rare footage of live performances, newly unearthed interviews with Strummer, recollections from the people who knew him best and even animation from Animal Farm, Mr. Temple has made a film that sets out Strummer's ambitions, concerns and musicianship on his life's stage.
Mr. Temple's film also offers an impressive compilation of interviews with Strummer's more famous friends and admirers, including Johnny Depp, Bono, Steve Buscemi and John Cusack. But it's the director's unprecedented, liquid access to the Strummer's private notebooks and recordings that makes it remarkable. Joe Strummer: The Future Is Unwritten will be screened as part of an 11-day collaborative series between the Brooklyn Academy of Music and the Sundance Institute, whose own film festival hosted the documentary's debut last January. After the viewing, audience members will be invited to engage Mr. Temple during a question-and-answer session.
Brooklyn calling?
Brooklyn Academy of Music, 30 Lafayette Avenue, Brooklyn, Friday, June 8, 8:45 p.m.