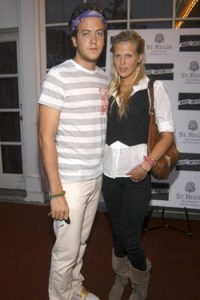 Socialite D.J. Nick Cohen, 23, the boyfriend of Keith Richards' daughter, the sometime model Alexandra, has started a line of glitzy sneakers.
Called U.E.S. (after the Manhattan neighborhood where Mr. Cohen grew up) White Perforated Leather (self-explanatory) SENI (a hybrid of Mr. Cohen's first name with that of his business partner, Seth Campbell, also 23), the ritzy kicks will retail for $500 per pair. In place of shoelaces, they feature chunky 18-karat gold-plated chains designed by jeweler Gabriel Urist and made, Mr. Cohen said, "at one of the best factories in China."
He was speaking to The Transom by phone while he waited at the D.M.V. like a mere mortal. "We wanted to go high-end with it," Mr. Cohen said of his collaboration with Mr. Campbell. "We have both always loved footwear and everything like that." But the two were sick of the retro-sneaker trend. "There are a million different colors out there, and it's tired and bored!" complained Mr. Cohen, who has invited Vogue editor Anna Wintour to a party introducing the sneakers, to be held on Wednesday, June 13, at AS on the Lower East Side.
Jeff Goldstein, owner of Blue and Cream, a boutique in the Hamptons—where Mr. Cohen spins at the clubs Dune and Stereo by the Shore during the summer months—is a fan of the new look, though he admitted it's been hard to find customers at the three-figure price point. "They're something that's great to wear to a cocktail party when you want to look crisp," he said, adding, "They tend to get fucked up in a club."
And how is it going with Mr. Cohen and Ms. Richards, 20? "It's beautiful," Mr. Cohen said. "We've been together for about three years and she's a great girl and life is good." Oh, yay.