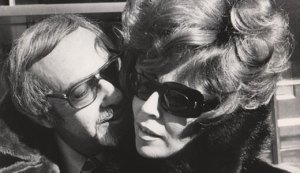 Crazy Love
Running time 92 minutes
Directed by Dan Klores and Fisher Stevens
Written by Dan Klores
Starring Linda Pugach and Burt Pugach
Dan Klores' Crazy Love is a documentary I wish had never been made. The story it tells can never overcome the horrible act of mutilation that made it a tabloid sensation. On Monday, June 15, 1959, an African-American hireling of Burton N. Pugach arrives at the apartment of Linda Eleanor Riss posing as a messenger and proceeds to throw lye from a mayonnaise jar into her face, more or less blinding her for life. Mr. Pugach had been smitten by Ms. Riss ever since he'd first met her on Rosh Hashana at Joyce Kilmer Park in the Bronx. He was 30 and she was 20. When asked by friends what he looked like, Linda compared his face to that of Arnold Stang, a very New Yawkish–accented radio comedian of the time. From the outset, it was not a romance for the ages. One entry in the production notes reveals that when Burt was celebrating his 13th birthday and bar mitzvah at a Chinese restaurant, Burt's father, Paul, deserted the family.
For her part, Linda is said to have quit her menial job to spend a week in Miami Beach, where she met Larry Schwartz, to whom she was engaged when the blinding occurred—after which Larry dropped her like a hot potato. All of this is very sad, of course, but the central horrific act of "jealous passion" was something I have been trying to forget all these years. It may seem strange for a film libertarian like me to express regret and resentment that the film was made at all, but there it is. Burt and Linda came together again after his release from prison and have remained that way into their old age; in the film, they promote their own unlikely "love" story and let their friends fill in all the grotesque details. Burt is particularly voluble in his self-drawn portrait as a victim of judicial persecution. He was once a lawyer, after all, and a fairly successful (if ethically challenged) one in the field of accident cases.
We also hear that when he learned of Linda's engagement, he at first decided to shoot both her and Larry, before losing his nerve and instead hiring three mercenaries to disfigure the supposedly great love of his life so that no other man could have her. Burt is just about one year older than I am, and so, in a sense, we were brought up in the same world, though he was raised in the Bronx, and I grew up in Brooklyn and Queens. Jimmy Breslin, one of the bemused journalistic witnesses to Burt and Linda's topsy-turvy tale, was one class ahead of me in John Adams High School in Ozone Park, Queens. I was happy to see Jimmy alive and well, and all the tabloid headlines and period street scenes reminded me of how much time has passed since this sordid story first emerged in all its facile fury. But it's too easy to feel superior to these two people and their marriage in hell for the sake of some easy (or even uneasy) laughter. I'd rather stay fixated on the horror, the horror.