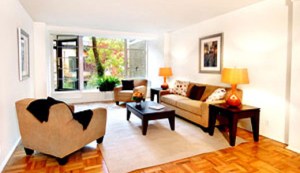 Nothing could be gloomier or more poignant than the extinction of Greenwich Village poets. But it's been decades since W.H. Auden strolled the streets in his slippers here; now the late Pulitzer Prize–winner Stanley Kunitz's apartment has been sold to a department-store executive.
According to city records, his four-bedroom condo in the mulishly modern Butterfield House condominium at 37 West 12th Street went to Macy's vice chair Janet Grove. The price was $2.6 million, a few hundred thousand dollars over the asking price.
"When I first entered the apartment, clearly there was a lifetime of memorabilia, books. Clearly, someone who lived a full life lived in this property," said Corcoran Group senior vice president Sharon Held, who listed the apartment with Maria Manuche. Kunitz, a two-time U.S. poet laureate, died last year at 100.
He wrote without pretension or clumsiness, often about his father's suicide. "I'm curious," he had said. "I'm active. I garden and I write and I drink martinis." (Why didn't Kunitz win quick fame? "It's strange," Auden said, "but give him time.")
The apartment's 24-foot-long living room, two of the bedrooms and a solarium looked south on a "viewing garden"—which, cruelly, is closed off. As recompense, Kunitz cultivated his own seaside summer landscape on Cape Cod.
Were his Village buyers attracted to the apartment's legacy? "No, I think they were attracted mainly because it's very hard to find a true four-bedroom apartment in Greenwich Village," Ms. Held said, "and certainly along this area in this price range. We actually got into a pretty fierce bidding war."