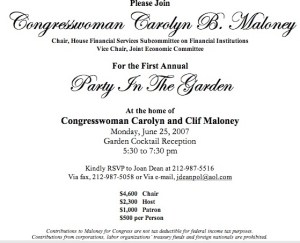 Tonight's "Party in the Garden" at the home of Congresswoman Carolyn Maloney might be about more than raising money for Democrats and for her congressional reelection. According to one close Maloney supporter I spoke to, tonight also serves to build her election war-chest for a 2010 Senate run if Hillary Clinton wins the presidential election.
Asked directly about the possibility that funds raised tonight are at all connected with the prospect of a Senate campaign, Maloney's office was dismissive.
"New Yorkers already have two great U.S. senators who, working with the rest of our congressional delegation, are providing strong and effective representation for the Empire State on Capitol Hill," Maloney said in a statement read to me by consultant George Arzt.
"The funds that I am now raising will be devoted to preserving and enhancing the Democratic majority in the house as well as my own reelection to Congress."
But Conrad Foa, a supporter who said he will be attending the party, seemed open to the idea that the money could be used for another possibility.
"That door is there for her to knock on," he said. "Maybe she stands first in line or very close to first in line to that door, but I feel that she has an unerring political sense to do what's best for her constituency. The question is what does she perceive her constituency will be, and I think she'll at least have the funds to do what's best."
Either way, tonight's event — which will be held at her 92nd street home — will only be the latest event to invite chatter about Maloney eyeing the Senate seat, according to one Democratic operative.
"There has apparently been fund-raising events the congresswoman has held so far where she has been introduced as 'the next U.S. senator from the state of New York'," the operative said, adding that whether or not the funds will be set aside for her own run, "what she would be able to do is use that money to raise her profile nationally."
Assemblyman Jonathan Bing, who will be attending the party tonight, told me he did not know how the funds would be spent. But he did say that he'd like to see Maloney in the upper Capitol chamber.
"I have no knowledge of what the money is being raised for," Bing said in an interview Friday. "I think certainly if Senator Clinton is elected president, Carolyn would make a wonderful U.S. Senator."
On Friday afternoon I talked to Andy Tulloch, Maloney's lawyer, and asked him whether he had discussed with her the possibility of converting money raised to a Senate fund.
"As to any legal work I've done or any conversations I've had with her, they're subject to privilege, and I really cannot discuss them at this time," he said.