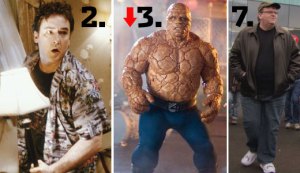 Evan Almighty eked out a first place finish at the box office over the weekend, earning little under $3,000 more than the weekend's other major release, the John Cusack and Samuel Jackson thriller, 1408.
The Steve Carrell comedy—reportedly budgeted at $175 M.—is being considered a disappointment nationally, as it failed to connect to bible belters who apparently prefer appeals to their Christianity to be made via melodrama, rather than comedy.
The only explanation I can find for the popularity of 1408 is that there's a large sweet spot in the Venn diagram where those who love John Cusack intersect with non-Christians and atheists. (Remember Grosse Point Blank!) There's of course no data on how many in this group were scared away by Minnie Driver, whose poor acting, upon reflection, only provided them with further proof that God did not exist. Imagine how well it would have done with, say, Jessica Alba—which brings us to our next films on the box office chart!
There was little drop-off between the top two films in Manhattan and the next two: the gap was little more than $10,000. Fantastic Four dropped a whopping—whopping!—70 percent and it found itself in third place. (I guess word got out that it wasn't such a hot film. What took so long?) And Knocked Up continued its solid run, settling into fourth place with a $22,557 average spread across 10 theaters. Ocean's Thirteen, which held the number 2 slot last weekend, dropped down to number 5.
Angelina Jolie has had an easier time selling magazines than theater tickets recently. Despite largely good reviews, A Mightly Heart placed sixth in the city with a modest $18,000 average, and tenth nationally. Perhaps a complex drama about one woman's struggle to find her kidnapped reporter husband set against the backdrop of global terrorism in Pakistan was not a perfect fit for the summer.
Coming in 7th is Michael Moore's Sicko. While it has yet to register on a national level, the jeremiad against the healthcare industry had a healthy opening here in the city. The film brought in roughly $70,000 at one theater. (It certainly helps when that theater is the only theater in the country with the film …) It appears the Weinstein Co. and Lionsgate are taking the opposite approach than they did with Fahrenheit 9/11.
Too much competition doomed La Vie en Rose, which lost its steam over the weekend. And the straight-to-the-Netflix-queue award goes to You Kill Me, which barely registered on 6 theaters in the city. One too many accents for Ben Kingsley, I hear.
Manhattan Weekend Box Office: How moviegoers in the multiplexes of middle America choose to spend their ten-spot is probably a big deal in Hollywood. But here in Manhattan, the hottest movies aren't always the ones making the big bucks nationwide. Using Nielsen numbers for Manhattan theaters alone and comparing them to the performance of the national weekend box office can tell you a lot about our Blue State sensibilities. Or nothing at all! Each Monday afternoon, we will bring you the results.