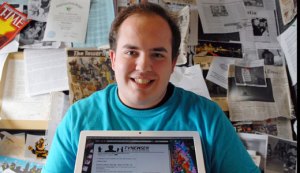 On May 22, Brian Stelter, the 21-year-old wunderkind blogger behind TVNewser.com, had a job interview that would excite, but probably also terrify, most mass-communication majors at Towson University: He met with five New York Times editors, including deputy managing editor Jon Landman and business head Larry Ingrassia.
It was only two days before his graduation ceremony and the senior, whose grade point average was just nudging the 3.5 mark, had to decide what to do next.
"It was time to stop reporting on reporters and start being a reporter," Mr. Stelter said by phone on June 12, shortly after The Times, in an internal memo, announced he had done just that.
Beginning on July 23, Mr. Stelter—the college student who made his name breaking television-industry scoops—will again be "reporting on reporters," but with a New York Times byline.
"This will be a much more professional and sophisticated way to do it," said Mr. Stelter of his new gig. (For example, he'll now have an editor checking copy before it goes live.)
Mr. Stelter said that he has been creating Web sites for years: He was covering Nintendo games at 14, and cable television at 18.
In 2004, Mr. Stelter launched Cablenewser.com, which later that year became TVNewser, following a partnership with the media Web site MediaBistro.
"I was an obsessive follower," said Vivian Schiller, general manager of nytimes.com. Back in the old-school, pre-MediaBistro days, Ms. Schiller was running the Discovery Times Channel, and—along with other television executives—became a faithful reader.
"It was a long time before anyone knew who he was," Ms. Schiller said. "When you meet him, he looks 12."
Although Ms. Schiller said she "talked him up at the Times," Mr. Stelter probably didn't need much boosting.
That's O.K., because industry big shots like Brian Williams were willing to pick up the slack in a November 2006 profile of Mr. Stelter appearing—where else?—on the front page of The Times.
"People from entry level to high and mighty check in on it," Mr. Williams told The Times.
A few weeks later, Mr. Stelter had lunch with Ms. Schiller and Mr. Landman at Angus McIndoe, near The Times (now old) headquarters, to discuss the paper's online plans (that's "platform agnosticism" in Sulzbergerspeak).
"I see them as one of the traditional media operations that is getting the Web," Mr. Stelter said, a Maryland native. "I can't say that for a lot of the newspapers that I read. I wish I could say that for a paper like The Baltimore Sun."
Mr. Stelter said that he had been talking to "other media outlets" about his post-graduation plans when he got the call from The Times, but "no other newspaper per se."
Mr. Stelter will cover media for nytimes.com and the print edition, according to a memo distributed by Mr. Ingrassia.
(Mr. Ingrassia, reached by phone, declined to answer questions about the recent hire, instead referring this reporter back to the memo.)
"His hiring underscores the expansion of our efforts to integrate what we do online and in the print edition," wrote Mr. Ingrassia, who mentioned another young hire with similar responsibilities, reporter Michael de la Merced.
Mr. Stelter, when he visited The Times last month, said he looked around and wondered, "Am I going to be the only twentysomething?"
Of course, he's not.
And Mr. Stelter said his decision was partly influenced by other Young Turks making their names in print and online: tenacious metro reporter Sewell Chan, who's starting the City Room Web site, and mergers and acquisitions reporter Andrew Ross Sorkin—who's now 30—and running DealBook.
But those guys still have a few years on Mr. Stelter, whose most recent print experience was as editor in chief of The Towerlight, Towson's student newspaper. Surely, he must be The Times' youngest reporter, right? "I hadn't thought about that," he said. "I'm actually young for my grade, too.