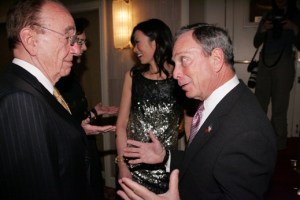 "I'm sworn to secrecy," Rupert Murdoch told The Observer as he was leaving the New-York Historical Society's auditorium last night. But: "We're making progress," the News Corp. chief added.
Mr. Murdoch hosted the 9th annual presentation of the Eric Breindel awards for opinion writing alongside Fox News boss Roger Ailes and Newsweek senior editor Lally Weymouth.
Ms. Weymouth glowingly introduced Mayor Bloomberg.
"Everybody in New York that I know thinks he's a brilliant mayor," she said. "And everyone thinks he would be a brilliant president."
"Nine years ago, who would have thought this would be one of the most prestigious awards in journalism?" Mayor Bloomberg said. "But, then again, nine years ago, who would have guessed the hottest thing on television would be a national talent show called American Idol. Or that the highest-rated news program would be one calling itself a 'No Spin Zone.' Or the most popular site on the Internet would be an interactive photo album called MySpace."
"What will Mr. Murdoch think of next?" he asked. "I guess you'll just have to ask the Bancroft family."
But the Mayor had to cut things short.
"I would love to stay with you, but to show you how diverse this city really is," the Mayor said, "I am going from a place where [News Corp.'s] Martin Singerman invited me, to a place– to give another speech–where Arthur Sulzberger Jr. has [invited me]."
Mr. Ailes played the part of M.C. and presented this year's awards two writers: Max Boot, a senior fellow at the Council on Foreign Relations, and John Wilson, a recent graduate of Claremont McKenna College. Mr. Boot takes home a $20,000 prize, while Mr. Wilson—a young journalist—receives a $10,000 check and internship with the New York Post's editorial page.
"We've become increasingly successful, and yet we've been increasingly criticized," he said to the crowd about his company. "Sometimes for being too pro-American. Sometimes we're too pro-Israel. Sometimes too pro-democracy.
"I've been quoted as saying, 'This is a great country.' A lot of people are trying to get in, nobody's trying to get out. The press is an essential pillar of that democracy. The press didn't invent democracy. Democracy invented freedom of the press. So we will investigate anything and find the truth, and report it, but we do not get up every morning, assuming that our country is guilty. We just happen to like democracy."
And he had some choice words for Democratic candidates who have decided not to debate on Fox.
"The candidates that can't face Fox, can't face Al Qaeda," said Mr. Ailes. "And that's what's coming."
That was followed by applause from the crowd which featured several News Corp. executives and journalists from Murdoch-owned papers—Richard Johnson, the Post's Page Six editor, for one.
And there were other notable figures who knew Mr. Breindel, an accomplished journalist, who died in 1998.
"While he and I didn't always agree on editorial policy, he was a consummate gentleman," Former Mayor David Dinkins told The Observer, during the cocktail hour.
"He was a fine man," continued Mr. Dinkins, "and I'm sorry he left us so early."