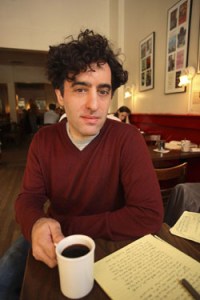 For those who think they have a book inside them just waiting to be written—and, really, isn't that pretty much everyone?—landing a book contract would be like winning the lottery. Dreams would come true; doors would open. Anything could happen.
"You hear about these big contracts coming in, and it whets your appetite," said Leah McLaren, a columnist for Canada's Globe and Mail, who landed a book contract with HarperCollins Canada in 2003 for her chick-lit novel, The Continuity Girl. "You start to think, 'This is my lottery ticket …. It could be optioned for a movie or become a huge best-seller!'"
Indeed, securing a deal with one of the many esteemed editors at publishing houses like Knopf or Doubleday or FSG seems like fulfilling a kind of New York–specific American dream. Visions of six-figure contracts, KGB readings and TV appearances dance through writers' heads. Even better: no more office, no more boss.
"But then, it could completely disappear and sell five copies," added Ms. McLaren whose own book was published to little fanfare as a paperback original in the States this spring. "And you'll never be heard from again. You'll disappear. And that's the real risk of writing a book."
But just think for a minute, by way of comparison, if a book contract is a lottery ticket …. Evelyn Adams, who won $5.4 million in the New Jersey lottery in 1985 and 1986, now lives in a trailer. William (Bud) Post won $16.2 million in the Pennsylvania lottery in 1988, but now survives on food stamps and his Social Security check. Suzanne Mullins, a $4.2 million Virginia lottery winner, is now deeply in debt to a company that lent her money using the winnings as collateral.
Could such doom await lucky-seeming, envy-enspiring book writers?
Look at Jessica Cutler, a.k.a. Washingtonienne, the D.C. sex blogger who was paid a six-figure advance for her novel, based on the experiences she chronicled on her blog. Suffering under the weight of a lawsuit from an ex-boyfriend, who claims to have been humiliated by her writing, she has now filed for bankruptcy. She can't even pay her Am-Ex bill.
Then there are the truly epic downfalls of authors like James Frey, whose fabricated memoir caused his life (and his seven-figure two-book deal with Riverhead) to shatter into a million little pieces. Now he's writing two novels without a contract and posting on the blog and message boards on his Web site, bigjimindustries.com—the literary equivalent of living in a trailer park.
And even before the potential post-publication humiliation, there's deadline pressure; crippling self-doubt; diets of Entenmann's pastries and black coffee; self-made cubicles structured with piles of books, papers and unpaid bills; night-owl tendencies; failed relationships; unanswered phone calls; weight gain; poverty; and, of course, exhaustion.
So forget the American dream! Getting a book deal seems more like a nightmare.
In 2002, Daniel Smith, a former Atlantic Monthly staff editor, received the news that he'd gotten a book contract for Muses, Madmen, and Prophets: Rethinking the History, Science, and Meaning of Auditory Hallucination in a sweltering phone booth at the MacDowell Colony, an artists' retreat in woodsy New Hampshire. "There was no cell-phone reception at the time, so you had to get into these poorly ventilated—meaning there was no ventilation—phone booths. You sweat like a pig in there, and that's how I got the news. And it was extremely exciting," Mr. Smith told The Observer.