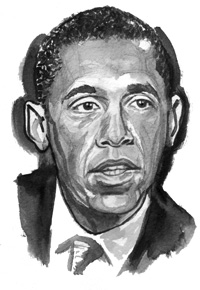 For Senator Barack Obama, it was supposedly a bad sign last November when Harold Ford, an African-American Democrat running for the U.S. Senate in a year when his party picked up six seats and lost none, fell three points short against a thoroughly average Republican in the race for an open seat in Tennessee.
For some Democrats, the outcome reinforced the depressing view that in too many states, the ceiling for minority candidates is several potentially critical points lower than it is for white office-seekers—raising doubts about Mr. Obama's national viability in the 2008 general election.
But forget Tennessee. There was another statewide race last fall—in Massachusetts—that should have blown any race-based concerns about Mr. Obama's general-election bona fides out of the water.
There, Deval Patrick, a former Clinton Justice Department official and an African-American, burst onto the scene and won the governorship with 56 percent of the vote, to Republican Lieutenant Governor Kerry Healey's 35 percent. Granted, Massachusetts is one of the most Democratic-friendly states in the country and 2006 was the most Democratic-friendly election year in a quarter-century.
But the commonwealth's partisan leanings can be misleading. When it comes to race, Massachusetts—and Boston, which actually voted for George Wallace in the 1972 Democratic primary, in particular—has a track record that is far from liberal.
Boston, of course, was at the epicenter of the national busing controversy of the 1970's, when black students arriving by court order at South Boston High School were met by white parents, students and even politicians chanting grotesque slogans and throwing rocks. Around that time, a woman named Louise Day Hicks won a Congressional seat (and nearly the mayoralty as well) fulminating against "civil rights infiltrators" and sounding the barely coded slogan "You know where I stand." In a moment of candor, she even admitted that "a large part of my vote probably does come from bigoted people."
And the resentments that busing brought to the surface lingered. In 1990, for instance, John Silber, the president of Boston University, surged ahead in the closing days of the Democratic gubernatorial primary campaign only after remarking that he felt no need to campaign in Roxbury, Mattapan and Dorchester—the neighborhoods in which Boston's black population is heavily concentrated—because it would be pointless to address "a bunch of drug addicts."
Per capita, Massachusetts actually has fewer African-Americans than Kansas, and with the exception of Ed Brooke—a liberal Republican who won two terms in the U.S. Senate—they have long been absent from the top echelon of the state's political firmament.
All of which helps explain the skepticism Mr. Patrick faced when he decided to run for governor last year—especially from the ruling class of hacks, patronage kings and ward heelers within his own party, who yearned for control of the executive branch for the first time since Michael Dukakis left office in 1991.