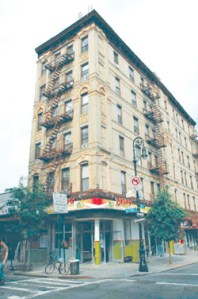 When Pizzeria De Santo opened at 173 Ludlow Street in January, the 900-square-foot spot seemed situated for success; it sat on one of the heaviest trafficked blocks on the Lower East Side, one that breeds late-night pizza cravings. Its owners, Joe Vicari and Salvatore Imposimato, the duo responsible for bottle-service-oriented spots like the now-defunct Happy Valley, planned on opening four more like it across the city.
By April, the space, though still open, was back on the market.
Pizzeria De Santo is not alone. As condos, boutique hotels and name-brand retailers invade the Lower East Side at an astonishing pace, smaller neighborhood establishments are being put back on the market at a similar rate.
Zozo's, a sandwich and smoothie spot at 172 Orchard Street, was put up for sale in February, just two years after opening. Kebab House II, a restaurant at 144 Orchard Street, has been on the market for close to a year. Though both are still in business, the owners are clearly looking to get out.
"From a survival standpoint, this is a different Lower East Side than it was three years ago," a neighborhood broker told The Observer. "A few years ago, places could slide by because the rent was not that bad. Now, you can't afford it for very long if you don't develop a following."
Hospitality broker and consultant Steven Kamali—who, according to sources, recently sold 137 Ludlow Street, home of the club Libation, for $5.5 million—has a slightly different take.
"The draw of the Lower East Side is that it is an incredible neighborhood that thrives on the diverse group of people that come to visit," Mr. Kamali told The Observer. "However, there is now such a saturation of bars and restaurants that a lot of places suffer."
Indeed. There are 40 liquor licenses along Rivington, Orchard and Ludlow streets between Houston and Delancey streets, according to Community Board 3. Twenty-one of those are on Ludlow Street alone.
While some blame the overabundance of choices in the neighborhood, others say that it boils down to expectations.
"In the case of Pizzeria De Santo, the owners realized that it was not the money they're used to," James Famularo, a broker for a number of downtown spaces including Zozo's and Pizzeria De Santo, told The Observer. "When you're used to club money—that is, $20 cover charges and bottle service—a dollar for a slice of pizza just doesn't seem like a lot. It's like being a hedge-fund guy and then selling newspapers."