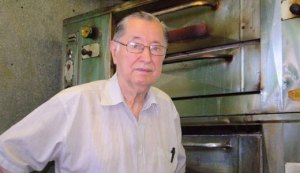 "Put it back in the oven," Domenico DeMarco was told.
The godfather of Brooklyn pizzadom had just pulled one of his signature pies out of the same old gas oven he's used since Mayor Wagner's administration—the temperature cranked up, the way he likes it, to around 750 degrees.
With his bare hand, he sprinkled some extra cheese onto the piping-hot pie.
That's when the health inspector cried foul. She was spying from the usual packed crowd of pie tasters that assemble daily at Mr. DeMarco's landmark Di Fara pizzeria in Midwood.
"My customers, they want it the way I do it," said the legendary 70-year-old pizza-slinger. "I use good cheese. Parmesan Reggiano! So, I told her that."
The inspector was not impressed. "She made me put it back in the oven," Mr. DeMarco said.
Then she made him lock the front door.
Busted! Barehanded. Again.
On June 4, the New York City Department of Health and Mental Hygiene shut down Mr. DeMarco's popular pizza parlor on Avenue J for the second time this year, citing "unsanitary conditions including mouse infestation, flies, and bare hand contact with food."
"Having failed five of six inspections in the last 18 months," the regulators concluded, "[Di Fara's] inspection history indicates an unwillingness or inability to meet health code."
Repeatedly flunking food-safety checkups might sound bad for business. But not to bulletproof "Dom," a.k.a. Dominick, DeMarco.
"It's publicity!" Mr. DeMarco told The Observer inside his still-shuttered eatery on Monday. A collection of trophy press clips, each framed, hung prominently along the green walls of his 42-year-old temple.
Even despite the on-again, off-again wrangling with the Health Department, he claimed that his business might be more popular than ever. "All the people are on our side," he said.
Health officials, naturally, dispute this, and charge Mr. DeMarco with stubbornly jeopardizing public health.