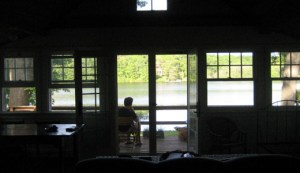 As recently as two years ago, people were ashamed to live north of the highway in Southampton. There was such ignominy. "People would say, 'Oh, oh, oh—I'm sorry,'" said Ivan Bart, the senior vice president of IMG Models, remembering. Then Mr. Bart bought a modest summer home on a pond there and suddenly everything was different. His neighbors told him it was the chicest thing that happened to the neighborhood. "An estate is not for me, because I lead such a busy, traumatic life," Mr. Bart said. "For me to acquire staff for that? I can't imagine."
Mr. Bart, 43, born and raised in Bensonhurst, Brooklyn, now living in Brooklyn Heights, leads a glamorous New York life that never stops. Recently he was asked to escort Naomi Campbell to the Met Costume Ball (there were no incidents), and then there was the CFDA awards dinner and the Chanel-sponsored screening of La Vie en Rose. "You take a Xanax and you go," said Mr. Bart.
Therapeutic, too, has been this 1932 bungalow with a cheery look that hugs one of the 99 lakes and ponds in Southampton's North Sea area. It resembles the shores of Gitchee Gumee: all Girl Scout, Boy Scout, marshmallows. There are many little Depression-era bungalows where people used to play gin rummy and eat bologna or liverwurst while listening to the sound of the towels in the dryer, and perhaps a skinny boy sitting in a muddy inner tube on the mosquito-covered ground. Most of these houses are passed down, family to family, though people are getting smarter and a few appear on the market now and then. There is always an eager offspring who can be seduced to sell. Mr. Bart's closing was quite emotional. "The former owner, 96, was going to assisted living," he said around a table of cherries and blue cheese one late Sunday afternoon, with a frog croaking in the background. "There was a reading. I got verklempt."
Mr. Bart's sentimentality didn't extend to the house's infrastructure. He crashed through a wall to get an open feeling, and eliminated a shed with a washer and dryer so the master bedroom could face the pond. (The predominant colors are blue and sage-green, with sparkling white bathrooms.)
North Sea in general is not at all like the high-powered, movie-star beach crowd with crashing waves, S.U.V.'s going over people's feet and laughter at having all the money and power. The crowd on the ocean side is always either eating refined salmon in modernist glass structures or sitting in a lonely room with lots of molding in some neo-traditional, endlessly wide mansion drinking themselves to death because, though they don't know it, they have too much space. They rarely understand the sea-haunted youth (Alastair Gordon's Weekend Utopia), which is what most of the Hamptons used to be about.
There are also differences between pond people and ocean people when it comes to tragedy. Still waters are always about people drowning—Leave Her to Heaven, A Place in the Sun—whereas crashing ocean waves are all about disappearance—Under the Sand, and the real-life Hamptons mystery of architect Norman Jaffee, who went swimming one day in 1993 and never returned. Ocean people are usually tanner than pond people.
Former Andy Warhol Factory girl Richie Berlin is also staying near one of the ponds, neighbors say. Not far from Mr. Bart, Manhattan film publicist Frank Lomento and interior designer Michael Stone have a stucco house—at 499 square feet, "it must be the smallest in the Hamptons," Mr. Lomento said—with a flat roof and a parapet, original brown-and-yellow linoleum in the kitchen, and cabinets with medieval Robin Hood fixtures. They will never forget when they asked for a "fixer-upper for under $200,000" six years ago in a Southampton real-estate office and a former dentist, now realtor, laughed in their face (he called a year later with the listing). Mr. Bart's good friend, Fern Mallis, executive director of Seventh on Sixth, has been coming to the area for some two decades; 11 years ago, she bought a two-story house on a pond near his. "I call it Swan Lake because there are always two swans on the lake," she said. A visit included a viewing of her miniature-chair collection.
Something about the area seems to encourage dreamy, nostalgic pastimes in their inhabitants. Mr. Bart takes long kayak rides in the morning and night to still his restless spirit, or he reads Canoe Mates in Canada by St. George Rathborne, who also wrote The House Boat Boys and Chums in Dixie, or he leafs through his At Ease: Navy Men of World War II picture book. (Though he had a moment of upset when a friend was cutting open an apricot and discussing her upcoming Fabien Baron sunglasses shoot and he came out from the kitchen holding a bottle, fire in his eyes: "Who put the red in the refrigerator?")
But far from being a recluse, Mr. Bart said he is partaking of all the Hamptons tent parties and the "new things happening," like gay karaoke at Almondito. ("I brought in Kelly Bensimon," he said, referring to a Hamptons socialite, many of whom seem to be named Kelly.) "She sang 'Elivira.'"
Mr. Bart added that he has total access to all the salt spray of ocean life, splashing at Fowler Beach in Southampton or Montauk, 25 minutes away. He has a very "spiritual relationship to water" ever since he grew up in Bensonhurst, on his mother's secretary's salary, bicycle-riding on the bay. "See that body of water?" he said. "All of that can come into me if I could only have a funnel, drain the water, and have it come through me." It sounded like a colon cleansing. Still, one could sense how summer and weekend places tug at the soul: With desire for immersive oblivion on one end and, on the other, the compulsion to keep in touch with one's own kind, or one falls off the radar and is dead, floating around in the darkest parts of outer space like a miniature astronaut without a breathing tube.