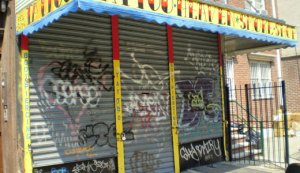 Ink, among other things, once flowed at Tattoo Heaven Smoke Shop on East Second Street, both via the needles of in-house skin artists as well as their copy machine.
Here, customers could choose among many dazzling replica driver's-license decals, including Delaware's "Great Seal" and Michigan's majestic moose, elk and eagle emblem.
Undercover cops picked up one of each state's, according to court papers filed last month.
Police this winter also seized a slew of alleged do-it-yourself identification apparatuses at the tat shop: a Polaroid printer, two digital cameras and 55 blank cards backed with magnetic strips. In addition to the home ID kit, the cops also confiscated 134 glass pipes, 16 baggies of a "white powdery substance," black metal knuckles and a sword.
Perhaps nothing evokes old New York quite like some sword-slinging shopkeeper, especially one so entangled in illicit commerce.
But after getting jabbed with one of the city's cutting nuisance-property lawsuits, Tattoo Heaven's landlord, Biligere Kripanidhi, may no longer feel for the underworld nostalgia.
The 500-square-foot alleged bogus-license boutique remains locked up behind steel shutters, pending a hearing on June 28. But don't be surprised if a "for rent" sign appears outside the spray-painted storefront in coming weeks.
The New York Police Department's continuing campaign to promote retail turnover has been kicking less desirable lessees to the curb all across the East Village and the Lower East Side, as condos and national retailers gain a greater foothold in the neighborhoods that once defined a grittier Gotham.
A realtor's sign currently hangs outside the former 24-hour Bowery Video, where for just $5 a friendly neighborhood prostitute could have once settled into one of the venue's comfy video booths for a night of brisk business.
Five times since January, court papers show, an undercover officer posing as a hooker (and not the other way around) slipped the video-store manager a fiver to let her set up shop in the back of 329 Bowery. On one particularly lusty night, she arrested five sex-seeking patrons in one hour.