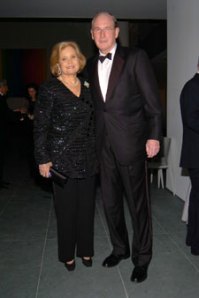 What is life like for Sharon Percy Rockefeller, the daughter of one Senator (Charles H. "Chuck" Percy) and the wife of another (John D. "Jay" Rockefeller IV)? For one thing, she's the longtime C.E.O. of Washington, D.C.'s flagship public TV station WETA, and she's also a trustee of the Museum of Modern Art; and, as of last month, she'll have a $2.175 million Manhattan apartment overlooking a very fancy MoMA sculpture garden.
"And there are two huge Richard Serra sculptures in there right now," the senator's wife said. "So they can be seen from up high!"
According to city records, she bought a one-bedroom spread at the Cesar Pelli–designed Museum Tower in midtown. Her sellers are Tay and Kunho Cho, a newly dubbed Lehman Brothers vice chairman based in Asia.
Ms. Rockefeller's address is listed on the deed in Washington, D.C., and her husband's Senate Web site says their family has a home in Charleston, W. Va. Mr. Rockefeller has been a Senator there since 1984, a year after the Museum Tower was finished.
"It was when my mother-in-law was president of MoMA that this buidling was built," Ms. Rockefeller said, "so I heard every story about its inception for a decade before it was actually constructed." An e-mail from Brown Harris Stevens agent Corinne Vitale, a listing broker, pointed out that the apartment is on the tower's northeast corner, which means it gets a trustee-worthy view of Philip Johnson's sculpture garden downstairs—which, of course, is named for a Rockefeller.
The Senator's wife has a G-line apartment, which, the broker says, is the largest kind of one-bedroom apartment in the building: It stretches 1,427 square feet. Besides the fact that Ms. Rockefeller will have all that space to herself, her apartment happens to be the only G-line spread with two bathrooms.
Mr. Johnson, who owned 11G, would have been furiously jealous.
But how will the apartment be decorated? Down South, her family home reportedly has a collection of American Impressionist art. Incidentally, the Tower's lobby has a Kenneth Noland, a Picasso and a David Hockney on permanent display.