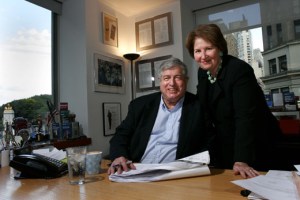 LOCATION: The new 2007/2008 Zagat Survey guide to New York City nightlife comes out this week. Only 6,121 surveyors were polled, compared to more than 30,000 for the annual restaurant guides. Club kids just don't dig surveys, huh?
MS. ZAGAT (laughing): No, I don't think that's the conclusion at all.
O.K., why the disparity?
Many more people go out to restaurants—every age, every borough—than go to bars, clubs and lounges. The audience is much, much bigger. 
Maybe Zagat is simply more synonymous with restaurants.
I wouldn't look at it that way. People vote about the things that they're really passionate about. People who vote on the restaurant survey are really passionate about restaurants. It's the same way for people that participate in nightlife; bars, clubs and lounges are what excite them. Of course, there's some overlap. But I think you're just seeing a different part of the population.
The latest poll shows that the meatpacking district retains status as both the city's hottest neighborhood and its most overrated. What does that say about the city's night owls?
I think the meatpacking district is really exciting, not just from a nightlife perspective, but from a restaurant perspective.
To think, Tim and I had our first apartment in New York on Horatio Street, when Horatio Street was not hot. A couple of blocks away was the meatpacking district, which, back then, was an actual meatpacking district. It's just totally changed. It's very exciting to see these places that have opened, these huge places, like Buddakan.
But, from another perspective—and as our survey shows—many people are preferring smaller places. And all of the places that I can think of offhand in the meatpacking district are really large spots. That might explain the "overrated" sentiment. 
Which statistic do you find the most telling about New York's nightlife scene? Is it the incredible surge in average drink prices—up 7.3 percent to $10.12? Is it patrons' utter disdain for bottle service—65 percent called it a "rip-off"?
MR. ZAGAT: I think the 7.3 percent inflation rate is more important. If prices continue to rise, people may cut back on their nightcrawling. Also, it's likely that bottle service will be prohibited by the City Council, which is considering a legislative ban.
Speaking of cutting back, a third of people are going out less often than last year—36 percent; 34 percent said the same thing in the previous survey.
In comparison, only 18 percent say they are going out more often. This may be a sign of a problem for the nightlife industry.
Turning to restaurants—some recently drew scrutiny by openly encouraging patrons to participate in the Zagat Survey: harmless self-promotion, or underhanded poll tampering?
MS. ZAGAT: We have guidelines posted on our Web site. Every so often, we'll find that a restaurant has done something that is clearly in violation of the rules.
What happens to those venues?
The restaurant gets thrown out of the guide.
For how long?
One year.