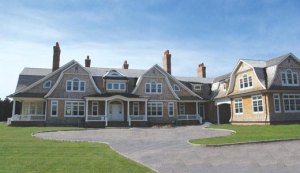 If F. Scott Fitzgerald's illustrious Long Island hero Jay Gatsby could buy a new Southampton mansion this summer, his place would have a steam room and a billiards room and a sauna room and a wine cellar and staff quarters.
That's what's merely in the basement of Dayssi Olarte de Kanavos' just-built $17.495 million mansion on Captain's Neck Lane. According to a source, the Park Avenue philanthropist and her real estate-developer husband Paul Kanavos are in contract to buy the 11,500-square-foot, 2.75-acre estate from the prolific Carlyle Group–funded Farrell Building Company.
Listing broker Gary de Persia of the Corcoran Group would not comment for this story, and Mr. Kanavos did not return a call to his office.
According to a New York magazine profile titled "The Self-Made Socialite," Ms. de Kanavos "hurdled gilded barriers," à la The Great Gatsby, to waltz from Queens into Manhattan's high society. ("It is unacceptable to act like a snob," a rival snob seethed in that article, "when you're from the Bronx and not Bronxville.")
But, quite acceptably, Ms. de Kanavos now has a 1,250-square-foot pool and a sunken tennis court, plus a second-floor master-bedroom suite that includes his-and-hers sitting rooms. Hers leads to a balcony and a terrace, though his is landlocked (which is unjust, considering that even the "junior master suite" has its own massive terrace).
Mr. Kanavos is the founder and C.E.O. of Flag Luxury, which has developed, among other things, the St. Regis resort in Anguilla. That hotel caters to clientele who want "luxury, service and intimacy and are willing to pay a premium for it," he has told USA Today.
Likewise, in his Captain's Neck Lane mansion, "two butler's pantries will make entertaining effortless," the listing says. Gatsby would be proud! But will guests have to schlep up the long stairs? "Naturally, an elevator services all three levels of living space."