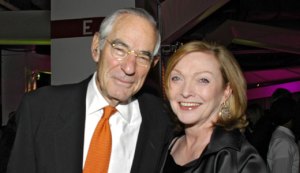 It felt like practically everyone who has ever had a by-line had crowded into the sanctuary of Riverside Church Tuesday afternoon to say good-bye to David Halberstam, an author with the voice of a deity, the heft of a tight end, and a hardcover-track-record that was the envy of every writer in the room.
Halberstam was 73 when he died April 23rd in a car crash in California, and dozens of people had experienced that news like a blow to the solar plexus. Jim Wooten was one of the many who had been so afflicted. "It was amazing," Wooten said after Tuesday's service. "There must have been fifty people there today who thought they were his best friend."
Ben Bradlee headed a substantial contingent from The Washington Post, while Timesmen past and present in the audience included Bill Kovach, Anna Quindlen, Craig Whitney, Joe Lelyveld, Sam Roberts, Seymour Topping, Paul Goldberger, Frank Rich, Les Gelb and Gay Talese. Bob Caro sat way in the back, Michael Arlen spoke from the front, and Kati Martin, Nick Pileggi, Robert Sam Anson, Nora Ephron, Ken Auletta, Joan Didion, Gail Buckley, David Remnick, and Frances Fitzgerald were among the scores and scores of authors who helped to fill a thousand seats in the church.
The service seemed to be a sort of high water mark in the recent flood of mega memorials, although the one for Kitty Carlisle Hart, earlier in the day, was nearly twice as long. At Halberstam's there was music from Paul Simon (who managed to make "Mrs. Robinson" sound mournful), as well as a song from the author's neighbor, Peter Yarrow, and "America the Beautiful" from the magnificent choir of the Metropolitan Baptist church of Newark.
There was fine oratory from Congressman John Lewis; an e.e. cummings poem from Halberstam's daughter, Julia, and thunder–actual thunder–when a fireman Halberstam had written about recalled 9/11, and again when Congressman Lewis described the early struggles of the Civil Rights Movement. Those celestial sound effects would have made Halberstam smile.
Neil Sheehan, the other giant of the Vietnam generation of journalists, first met Halberstam forty-five years ago in Saigon. Sheehan recalled one particularly astonishing display, when a Buddhist revolt made 4,000 words explode out of Halberstam's manual typewriter in a single day. They filled up the lead story in the Times, a sidebar, a Man In The News, and an opinion piece for The News of the Week in Review. "The friendship that grew out of [our] partnership became one of the wondrous gifts of my life," said Sheehan. When they first met, Halberstam had been twenty-eight, Sheehan, twenty-six. "As he entered the afternoon of his life, David became more sentimental, and he began to call me his little brother."
Halberstam's final book, The Coldest Winter, about the Korean War, will be published this fall, and his wife Jean believes it was one of his favorites. Ralph Hockley was a veteran of the Second Infantry Division in Korea, and he had met Halberstam five years ago, when he started the research for his last work. Hockley quoted one of Halberstam's maxims, from the last speech the author gave before his death: "going out and interviewing people keeps you young." And Hockley was another man still recovering from the trauma he felt when he learned of the author's passing: "to my wife and me, David's death was as great a shock as the death of President Kennedy."
Gay Talese spoke last, and those who knew their history felt the poignancy of the moment. Talese and Halberstam had first met in 1961, when they were both still at the Times. There they discovered that the first Yankee game that each of them had attended as teenagers was the very same game: a Red Sox game, in 1949, in which Ted Williams had hit two home runs. Later, Gay and his wife Nan had been Halberstam's landlords: they had rented him the apartment in the brownstone where the Taleses still live today. But the Talese-Halberstam friendship was ruptured when they both decided to write about the auto industry. Talese backed away, leaving the field to Halberstam, who then scored another bestseller with The Reckoning.