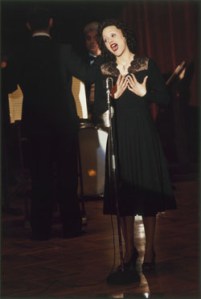 La Vie en Rose
Running Time 140 minutes
Directed By Olivier Dahan
Written By Olivier Dahan and Isabelle Sobelman
Starring Marion Cotillard, Gérard Depardieu
Imitation isn't always the sincerest form of flattery. This is why Marion Cotillard's sensational performance as Edith Piaf in the awesome new film La Vie en Rose is so unforgettable. Like Stephen Fry's Oscar Wilde in Wilde and Toby Jones' memorable Truman Capote in Infamous (light years ahead of Philip Seymour Hoffman), Ms. Cotillard doesn't try to imitate Piaf, the greatest French chanteuse of all time. She channels Piaf. "The little sparrow" comes to life before the camera in this long, exhilarating and dazzling movie masterpiece, while Ms. Cotillard delivers one of the most inspired and breathtaking performances in film history. La Vie en Rose left me devastated.
It's a harrowing story, and although writer-director Olivier Dahan doesn't burden himself with the traditional formalities of linear, chronological biography, few of the gruesome facts are spared. Born Edith Gassion on the Paris pavement in 1915, the unloved child of an alcoholic mother and a father who was a circus contortionist, Edith was a sickly waif covered with sores and suffering from malnutrition and various diseases, raised in a brothel in Normandy by her father's mother, a notorious madam (played by Simone Signoret's look-alike daughter, Catherine Allégret), and narrowly saved from deafness and blindness by the prostitutes who nursed her back from the jaws of death. At 16, she gave birth to a baby who died of meningitis. In 1935, she was discovered in the streets of Montmartre singing the songs the whores taught her, nicknamed "La Môme Piaf" (the Sparrow Kid) by nightclub owner Louis Leplée (Gérard Depardieu), who managed her career until he was murdered. Piaf was suspected of the crime, roughed up by the cops, but acquitted in time to make her first record. By the 1940's, Cocteau was writing plays for her, her comrades were Chaplin, Chevalier and Yves Montand (who became one of her many lovers), "La Vie en Rose" became her signature song, she worked with the French Resistance and entertained the Nazis at the same time (shades of Verhoeven's Black Book), and after the war her international fame brought her to New York, where Virgil Thompson saved her career from bad reviews and she fell for the love of her life, the dashing Marcel Cerdan, who beat Tony Zale for the World Middleweight Boxing Championship. After he died in a plane crash in 1949, she grew despondent, and after two near-fatal automobile crashes in 1951, became addicted to morphine. She married twice, made a comeback—withered, cadaverous, hunchbacked and high on drugs—at the famed L'Olympia, and died of cancer in 1963 at age 47. She was forbidden a funeral mass by the Catholic archbishop, but the streets of Paris were filled with hundreds of thousands of mourners, traffic came to a complete halt, and 40,000 fans attended her graveside ceremony. For a woman less than five feet tall, she lived the life of a dozen people, so no wonder it takes nearly three hours to capture it all on film. La Vie en Rose sprawls all over the place, so you have to be alert to follow it. You will never be remotely bored.
Ms. Cotillard has more faces than Piaf's saga has chapters. Flawlessly lip-synching the icon's passionate voice, she synchronizes Piaf's energy, eyes, body language, madness, tragedy, triumphs and outrageous humor until you are galvanized by her greatness. The veins in her neck bulge like helium whenever Piaf reaches a note that shatters, and she even inhales when Piaf does. The non-linear style can be jarring, but somehow, in the scope of Mr. Dahan's direction and the range of Ms. Cotillard's virtuosity, you always know where you are and what period it is in Piaf's life. Example: You cut from the horrors of the bordello, filmed like Vermeer oils in half-lit shadows, as the young Édith is dragged away in a horse-drawn cart, to the stylish return from her celebrated American tour in a chauffeured limousine and her loud, vulgar toast at Maxim's. Decades are wedged between, yet you know exactly where Piaf has been and where she's heading. Her mentors, composers, lovers, and entourage of whores and pimps and junkies come and go like the fashions of the day, but Ms. Cotillard keeps her firmly in focus. One minute it's 1963, the year of her death, and her head of carrot-colored fuzz is nearly bald; the next minute it's 1936 and she's young and promising and already full of too much champagne. "You're playing with your life," she is warned. "So what?" she spits back. "You have to play with something!" She's a combination of Billie Holiday and Judy Garland, and although it's not a new story, in the right hands it's a goddamned electrifying one. From Raymond Asso, the cruel manager who made her wear black, taught her how to interpret lyrics, and catapulted her from cabaret to concert hall, to the spectacularly handsome boxer Marcel Cerdan, who taught her how to eat corned beef, sneak up the back stairs of the Plaza Hotel where the press couldn't see them, and make the box springs moan—but refused to leave his wife—Piaf was used, abused, exploited and abandoned by everyone. There is one marvelous scene set in 1947, when she meets Marlene Dietrich, that whistles with the doom of what time can do to a woman with glamour and fame, followed by a sun-drenched day of palms and hypodermic needles in Hollywood (when she was up to 10 injections a day), as Piaf drives a convertible into a tree. The movie is so chock-full of details that it doesn't matter how, where or when they occur, as long as they play themselves out with an artistry that is captivating. Nor does it matter how you end such a rich, rewarding achievement. Here, it is Piaf's grand finale in 1960, hunched and bloodless as a vampire, her mouth a dark blood-red scar, miraculously pulling herself together to introduce a brand-new song, "Non, Je Ne Regrette Rien." It became her theme song. You will leave this movie knowing why. The movie, the voice of Piaf, and a performance that turns Marion Cotillard into a great new star shimmer with the kind of beauty, power, intensity and visual opulence you might want to experience again and again.