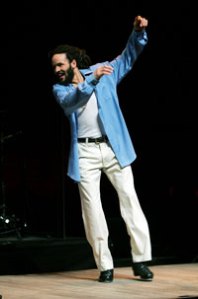 For Tony Award–winning tap dancer Savion Glover, words don't mean a thing: He talks with his feet. A rumble of clicketyclacks, a staccato of flip-flaps and a string of stomp-stomps with his metal-toed shoes …. With these, Mr. Glover will reveal his soul on the Joyce Theater stage beginning June 19.
Sporting his signature cascade of dreadlocks and 80's-ish billowy pants, Mr. Glover, 33, has been dazzling audiences with hard-hitting footwork for more than two decades. Before being cast as the lead in the 1984 production of The Tap Dance Kid at age 10, Mr. Glover was just a hip-hop street kid from Jersey. But he went on to be mentored by Gregory Hines and, in the mid-90's, brought about a tap revival, clicking into the mainstream with the Broadway hit Bring in 'Da Noise, Bring in 'Da Funk, a musical that chronicled African-American history through Mr. Glover's self-made "free-form hard core" genre of tap.
Mr. Glover teaches people how to hear, rather than see, dance, from making cameos in videos by Puff Daddy and Kenny G, to appearing on Sesame Street and at the Olympics. Recently he provided the tap-dance stylings for the star of the animated film Happy Feet; Mumble, a tuneless penguin, serenaded his crush through his smooth tap moves. The movie was a worldwide commercial hit. And maybe if we were all willing to  risk a little embarrassment, we could, like Mr. Glover and little Mumble, find our souls in our feet.
The Joyce Theater, 175 Eighth Avenue, www.joyce.org.