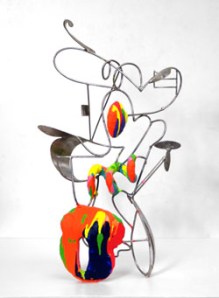 Peter Reginato's artistic credo—or part of it, anyway—can be found in the catalog accompanying his exhibition of sculptures and paintings at Heidi Cho Gallery: "Having someone else make your artwork is like having someone else make love to your wife." The statement tells us two things: Mr. Reginato believes in the integrity of the artist's hand, and, not least, he has a sense of humor.
Structural rigor meets generous excess in Mr. Reginato's work. No distillation of form for him: His sculptures embody a goofy strain of what can only be called high modernist rococo. Assembled from welded pieces of stainless steel, Mr. Reginato's sculptures are heir to the Constructivist tradition of Julio González, David Smith and Anthony Caro. The pieces forsake mass, focusing instead on traversing and enveloping space.
Mr. Reginato employs a whimsical array of shapes to build his kaleidoscopic sculptures: squiggles, bulbous and bumpy profiles, stepped planes and, to a lesser degree, looping lines. Repeated throughout the dozen or so works on display, they vary in size and character. Balanced precariously against and on top of each other, Mr. Reginato's shapes tug and flex with rubbery determination. Welded together, they teeter, twirl, cluster, ascend and, in the atypically vulnerable Fresh Kills (2007), huddle protectively.
The work is three-dimensional in effect, but its constituent parts are largely pictorial: flattened, cutout shapes. Some evoke Matisse, others have an industrial quality, but most of them are distended and silly—imagine a marriage between Jean Arp's biomorphs and Mickey Mouse before he got streamlined and sanitized. Mr. Reginato almost seems to be building on the old joke that a modern sculpture is a blob with a hole in it. His ability to poke fun at precedent is inseparable from his respect for it.
Low Maintenance, the title of the exhibition, refers to the sculptures' ability to withstand the elements should they be placed in a public space. Their brushed and scratched surfaces would benefit from natural light and so, too, would their playfulness. Context isn't everything, but a gallery is a classier venue than is good for them.
Or maybe it's just that the paintings and sculptures tucked away behind the front desk manage to steal the show. The two small canvases, with runs of acrylic paint and bunny-eared silhouettes, are agreeable as larks. But the sculptures, well, they're appealingly awful. These wiry totems are augmented by globs of foam painted livid red, silky iridescent purple and a hard, unfriendly yellow. Such arrant, if still somewhat tentative, vulgarity becomes an artist who's reached an impressive level of dexterity. Better to test one's skill than to coast on it. With Conversation Piece (2007), Mr. Reginato doesn't quite know what the hell he's up to. That's why it's the most exciting thing in the show.
Peter Reginato: Low Maintenance is at Heidi Cho Gallery, 522 West 23rd Street, until July 7.