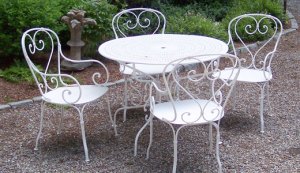 Where will the guests alight, Sancerre in hand, eager for salmon, flying fish and a mint leaf? Where to sit when being disconsolate, eating a cherry, dreaming of a love affair—if you are not in the country, drifting in a swan boat, hand trailing in the water?
In Manhattan, where people already have a complicated, neither-with-you-nor-without-you relationship with the outdoors, furnishing the outdoor space, however large or small, can send one into the house of Bedlam. Wind on a large terrace, penthouse deck or balcony will blow lightweight furniture away, and then you will lose it, a sinking feeling—or, worse, the furniture will hit someone or crash into his topiary, and then he will sue you. Plastic furniture, if it is too light, will make you run after it. You will find yourself going down with your bubble chair to the ground. People with a small yard in between buildings should really rejoice. They are protected on the sides and can get the snazzy synthetics—a polyethylene chair named Jellyfish or foam-injected sofas or seating made of "eco-friendly" vinyl webbing, the new wicker. Vast penthouse terraces—the higher you go, the harder you fall—are open to everything, sparks dropping from Blade Runner flying machines in the night sky.
Corcoran broker Sharon Held bought such a heavy sofa for her 3,700-square-foot wrap terrace around the Gretsch Building in Williamsburg that delivery was halted. "They needed more men," she said.
Barbara Israel of Barbara Israel Garden Antiques "won't even discuss plastic." She is all for cast iron. "It will sit like a stone," she said. "It never moves." But does one really want a 19th-century loveseat with lilies of valley and ferns outside while the Barcelona and Eames chairs are inside? So many in town are modernists these days. Everyone is supposed to worry about indoor-outdoor flow, ever since Frank Lloyd Wright, Le Corbusier and Mies van der Rohe broke down the barriers, projecting into the landscape, making the boundaries invisible. George Washington, from an earlier time, was not concerned. "He had 35 Windsor chairs that he brought into the garden when he had guests," Ms. Israel said.
If you are getting into heavy stone fountains, think deeply. Buildings have weight requirements. "All buildings are engineered for a certain amount of poundage per square foot," said Manhattan landscape designer Jeff Mendoza. "Though rarely are buildings concerned about the weight of furniture. Planters and soil are the big concern."
Rain is another issue. "Cast iron rusts," Ms. Israel said, "especially the white." Though there are all sorts of new coated metals today, a big population inside the city and out abides by teak, which is not only heavy (though if a hurricane arrives in New York, nothing will be heavy enough), but looks great after it rains, changing over time to a silvery patina, like an elder becoming wiser.
"Teak is the most durable," said furniture designer John Danzer, founder of Munder-Skiles on Madison Avenue. "It's a hard wood, slow-growing, so it can withstand all the elements—rain, sleet, cold, the burning sun." Though it can have a hard time with red wine, ketchup and olive oil.
According to Mr. Danzer, the insects of New York aren't interested in this unfamiliar, exotic wood. Tell that to Richard Griffin's landlord, who left a little grass in his Greenpoint backyard but is talking about concreting it over. "They think it lets in bugs," said Mr. Griffin, an advertising copywriter who used to have a wooden table, but "they thought it was suspicious and replaced it with a plastic one."