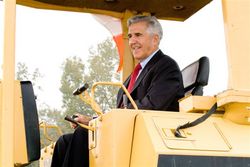 My invitation to tonight's cook-out at Joe Bruno's ranch got lost in the mail. But his NYC spokeswoman Lisa Black was kind enough to send over this on-the-record description of what will happen tonight when the governor, legislators and assorted other politicos get together after hours at Ranch Bruno.
"He hosts an annual 'tent party' at his home (aka ranch) annually at the end of session for his members, their spouses, the gov and senior staff. In the past Pataki always stopped in as well as the assembly min leader. Mrs Bruno is always the perfect hostess. Food is buffet style (raw bar, salads, carving station) and thus no seating arrangements – view is scenic, looking over the horse run and watching the sun set over the acres and acres of trees. Event is casual, so much so that some members arrive in khakis and short sleeved linen shirts. Most women wear sundresses-"
Can reporters go? Interns, perhaps?
"Interns go NO WHERE in the Senate- esp where alcohol is served!"
And by the way…"No reporters."
(Invitees, please feel free to email me with your accounts.)