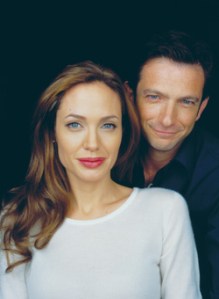 As Angelina Jolie and Brad Pitt, along with some cross-sampling of their kids and a marauding army of paparazzi, descended on Manhattan last week for the premiere of Ms. Jolie's new movie, A Mighty Heart, there was one man who seemed conspicuously absent amid all the hubbub: Michael Winterbottom.
Wait—who?
Mr. Winterbottom directed the film, which opens Friday and was adapted from Mariane Pearl's memoir about the days and nights following the disappearance and later murder of her husband, Wall Street Journal reporter Daniel Pearl. If Mr. Winterbottom's name rings only the most distant bell, you're hardly alone; mention him and expect a quizzical look: "What did he make again?"
Mr. Winterbottom's relatively low profile is shocking, given his prolific output over a 12-year film career. He's made, on average, slightly more than one movie a year since his 1995 lesbian-serial-killer debut Butterfly Kiss; he's taken on everything from the Bosnia-Herzegovina war (Welcome to Sarajevo), to the American gold rush (The Claim), to Joy Division (24 Hour Party People), to post-9/11 detainee imprisonment (The Road to Guantánamo), to Laurence Sterne (Tristram Shandy: A Cock and Bull Story). His movies typically arrive in very limited release.
Still, if you've seen one, you might quickly identify the others. He works in a semi-documentary style, even when making the most theatrical of films. To say that he breaks down the walls between his projects and the real world is an understatement; when journalist Stephen Rodrick visited the set of Tristram Shandy for The New York Times in 2005, Mr. Winterbottom put him in the movie as journalist Stephen Rodrick, there to interview one of Mr. Winterbottom's leading men, Rob Brydon.
Mr. Winterbottom mostly shuns Hollywood and the techniques of Hollywood filmmaking, preferring to work without a structured script, in available light, with a tiny crew and, often, just regular people plucked off the street (or out of the refugee camp) instead of actors. A Mighty Heart, which he shot for less than $20 million, is certainly his most high-profile film, though in the many, many articles and features covering the movie (see nearly every women's magazine currently on newsstands and the current Newsweek), Mr. Winterbottom is mentioned but rarely. He's obscured by the outsized shadow of Ms. Jolie—this despite the fact that A Mighty Heart is less of an Angelina star vehicle and more like just another Winterbottom movie.
While A Mighty Heart played to the celebrities at the Ziegfeld Theater last Wednesday, Mr. Winterbottom was next-door at the London hotel bar, enjoying a drink, waiting to head over to the after-party (no reporting allowed). The bar was dark and loud. Almost boyishly cute at 46, Mr. Winterbottom was wearing a dark shirt and dark pants. Answering questions, he leaned in to listen over the hum of other revelers, and gestured with his hands while firing rapidly away in his enchanting accent. (Another reporter who'd interviewed Mr. Winterbottom asked The Observer, "Did you understand anything he said?") He was born in Blackburn, Lancashire (like the Beatles song), and now lives in London, though work takes him all over.
"Pakistan is not that bad of a place. It's violent, but it's not Iraq," he said, discussing the filming of A Mighty Heart, which was shot in France, Pakistan and India. Pains were taken to film the actual places in Karachi where Daniel Pearl spent his last free moments, hunting down a source for a story connected to shoe bomber Richard Reid. (See Rex Reed's review on page C12.)
Mr. Winterbottom hadn't expected to return to Pakistan after shooting parts of The Road to Guantánamo, his controversial film about three young Muslim Britons ostensibly on a holiday-cum-humanitarian effort in Afghanistan when they were captured by the Northern Alliance after 9/11 and sent to the prison in Cuba. But A Mighty Heart demanded it.
"You just have to dive into Pakistan," he said. He arrived in Karachi with a small film crew, and hired locals to act and work on the set. "Even the process of getting into Pakistan is one of those things that if you said exactly what you were doing from the beginning and waited for the wheels to turn, you would never get in. So on this one, as soon as we started to work on it, I wanted to meet with people in Pakistan like [the head of Pakistani counter-terrorism, known simply as Captain for security reasons] and John [Bussey, Pearl's editor at The Journal]. I wanted to see the places where the story happened, like Rawalpindi and Islamabad. So I went also with the cameraman and … and we just started shooting in case we couldn't get back in."
Much of A Mighty Heart is set in the home of Asra Q. Nomani (played in the film by Archie Panjabi), a colleague of Pearl's. For the five weeks spanning Pearl's disappearance to his confirmed death, Mariane Pearl, Ms. Nomani, Mr. Bussey and numerous police and intelligence officers holed up there, waiting for news from Pearl's captors. Mr. Winterbottom wanted to mimic that experience, so he put his actors in a house for five weeks, where they filmed eight hours a day. (Although, because Irrfan Kahn, the dashing Bollywood actor who played Captain, could not get a visa to travel to Pakistan, they filmed the house scenes in India.)