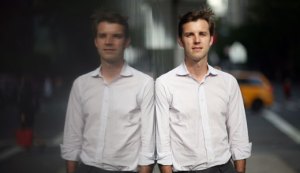 Even for someone as painfully—ridiculously—attractive as author Taylor Antrim, the process of picture-taking can still be painful. Posing for an Observer photographer last week, leaning against a wall off Sixth Avenue in the West Village, the tall and fair 33-year-old smiled tightly and shot embarrassed and apologetic glances at the curious passers-by who stepped around him.
His pink-striped shirt was unwrinkled, gray pants neatly pressed, teeth straight and white, and his sandy hair ruffled in the late afternoon breeze. He may have felt uncomfortable, but Mr. Antrim looked downright Gatsby-like. Click.
Later, happily tucked into an outdoor table at nearby Bar Six, Mr. Antrim sipped a gin and tonic and visibly relaxed. "I know this routine well," he said, motioning to The Observer's tape recorder. Mr. Antrim has worked as an associate editor at ForbesLife for over two years, and has freelanced regularly for Esquire and Vogue. His debut novel, The Headmaster Ritual, will arrive in bookstores on July 9. It's a perfect summer read, a tale of isolation and intrigue set at a prestigious New England prep school. The title comes from the Smiths song of the same name (for those who don't remember: Belligerent ghouls / Run Manchester schools / Spineless swines / Cemented minds). And the story draws from his personal experience, too. Patrician-boned Mr. Antrim, who it's hard to imagine ever had a goth leaning in his life, himself matriculated at Phillips Academy Andover in Massachusetts before heading to Stanford (followed by Oxford and the University of Virginia for his M.F.A.). "For me, it [boarding school] was great. It forces you to grow up very quickly," he said.
What is it about boarding school that rivets us so? The green lawns and crooked ties of the young upper crust are a well-trodden terrain, from books like A Separate Peace to Curtis Sittenfeld's best-seller Prep. Movies enroll too—see Lindsay Anderson's If … , not to mention Class and Dead Poets Society. Hell, at least part of the allure of Harry Potter centers around the singled-out students living together in the separatist universe of Hogwarts. Yet each one—each peek behind the ivy—makes even the most populist among us long to unlock the mysteries of privilege and the old-fashioned rituals known by those snug in their dorms.
The Headmaster Ritual is no different. In Mr. Antrim's novel, the school is a fiction called Britton, though he admits that it shares many of Andover's qualities—like crumbling architecture and, of course, ritual hazing. For example, "lacquering"—when someone urinates into a humidifier, coating the room and all its belongs in a fine spray of piss. "I was never lacquered," he confessed. "But there was this game that I talk about in the book called 'property.' It basically is when you pick up other people's stuff and throw them out the window or hide them. I lost a lot of belongings that way. You'd come back to your room and you'd be missing your pillow or your stereo."
"Everyone talks about prep school as this privileged enclave, but to me it was the opposite," the modest and polite Mr. Antrim said. Born and raised in Richmond, Va., his speech today doesn't hold a trace of an accent ("Andover beat it out of me pretty quickly," he smiled). "I went from a fairly conservative environment in Virginia to Andover, where there were gay students and quasi-militant minority groups. It was exhilarating for me—it was like the U.N. compared to Richmond." (Appropriately, his book's plot is centered around the school's model United Nations team, which is tasked with the challenge of representing North Korea.) "I kept hearing kids saying they were from Greenwich, which confused me. Like, they're not even telling me what state they mean!"
After Stanford and Oxford, where he briefly flirted with the idea of life in academia, Mr. Antrim settled in San Francisco in 1998 where he worked at Wine and Spirits magazine, reporting on and coordinating wine tastings. He also wrote short fiction and, unlike so many journalists-cum-novelists, worked his way through the literary network, publishing in small literary journals. One piece he wrote for the San Francisco Bay Guardian was about the short story "Sam the Cat" from the same-named collection by lad-lit darling Matthew Klam ("who I totally admire and esteem"). "I found an address, sent him the story and basically just told him how much I admired his collection. He called me the same day he got it. I think he's done this for other writers, just been a sort of advocate, and I told him I was thinking of going to New York. He said, 'Give these three people a call,' and one of them was Adrienne Miller at Esquire."
Talk about a charmed life!
Mr. Antrim moved to the East Village in 2002, and freelanced until he started the M.F.A. program at the University of Virginia, where he held the prestigious Poe/Faulkner Fellowship. His second year of teaching undergraduate creative writing proved handy when later writing The Headmaster Ritual, in which one of the two protagonists is a first-year teacher. "This one time a freshman girl wrote this story about exploring her possible lesbian side her first year of college. And we're all sitting around this table … and it's like the least sexy time of the day, at 9 a.m., and we're all … I mean, especially me 'cause I'm the adult in the room … oh jeez." He's still in touch with former students, though he joked, "I hope a lot of them went to business school and are on their way to becoming hedge-funders."
While he was at UVa, he had an idea for a story about the Model United Nations Conference taking place in New York. He pitched it to The New York Times Magazine—"knowing full well I could use the research for a novel"—and reported and wrote it. The story never ran, but the experience of interviewing a high-schooler from Chicago tasked with representing North Korea, sitting alone on his own, stuck. "He said no one wanted to talk to him, he didn't even know who North Korea's allies are," Mr. Antrim explained. "The whole Model U.N. thing is such a social scene and I just thought, what a great metaphor for a kid who is 16 and feeling awkward anyway and representing an ostracized country. It's just a great metaphor about how we think about adolescence. It's rebellious, it's isolating, it can be violent and irrational and that is where it all started."