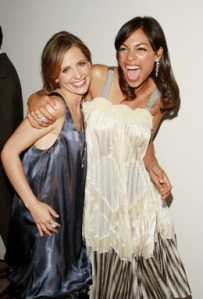 No fewer than 20 Arden Wohl-esque headbands were spotted at the Whitney Museum's Art Party on Wednesday, June 6.  The evening's dress code was, after all, "hippie chic," in honor of the museum's current exhibition, "Summer of Love: Art of the Psychedelic Era."
Socialite Genevieve Jones looked beautiful in her daisy headband.  Man about town Paul Johnson-Calderon chose a red one (with a matching sash around his waist). to accessorize his tuxedo. The artist duo Andrew Andrew, who dress as twins à la Gilbert-and-George and Viktor-and-Rolf, sported matching ones.  "We bought them in a Japanese supermarket in Hawaii," they boasted. 
Top model Agnyess Deyn was a standout in her canary-yellow mini-dress by London label Preen.  The Manchester, England, native recently moved to New York.  "I'm still in my honeymoon period with the city," she said with a smile.
The actress Rosario Dawson, stunning in Max Azria (the design label sponsored the event), said she's looking forward to Fourth of July Weekend in the Hamptons, where her buddies are throwing a big bash.  Last summer in the Hamptons, The Transom kicked it with Ms. Dawson and her madcap moms, Isabel.  This year, she said, she feels a bit out of it.  "Oh, I don't even know all the parties," she said.  "No one ever tells me, I'm never invited anywhere, you know that!"
But attention comic book fanatics: Ms. Dawson is the prototype for a crime-fighting heroine in a comic book named O.C.T.: Occult Crimes Taskforce.  The trade paperback of the first four issues is coming out June 13, and shortly thereafter Ms. Dawson hits the road on a book tour. Whee!
Conspicuously absent from the crowd were the art-world power brokers–curators, critics, gallerists and the like – most of whom are jetting their way to Europe and the month-long jamboree of big exhibitions there.  "There's only a handful left," said Whitney director Adam Weinberg of the art gang.  But, no worries, the poor artists themselves are still here, he said. Oh, phew.
Luba Azria, wife of Max, was introduced to Walis Singh Ahluwalia, the jewelry designer.  Ms. Azria, perhaps inspired by Mr. Singh Ahluwalia's turban, decided to inform him that she'd once attended a great Eastern-meditation camp, of sorts.  "It was a totally amazing experience. It changed my life," she said.  Mr. Singh Ahluwalia blinked and nodded blankly.
"I'm building a big, beautiful house for all my friends, brick by brick," he later said about his gem company, House of Waris. 
At last year's party, Moby told The Transom that he'd washed his hands of the whole affair ("I'm bored," he'd said.)  This year, he didn't wash his hands after peeing.  The head-shorn musician turned from the men's room urinals and headed straight for the door.  "What I love about this party in particular is it's this odd combination of socialites and degenerate artists," he said.  "And they sort of rub off on each other."